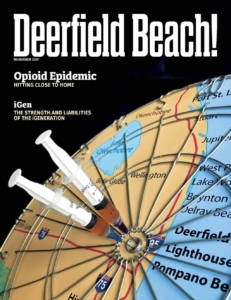 Deerfield-News.com-Deerfield Beach,Fl-Apparently this picture of a dartboard and Deerfield Beach as the "Bullseye" for rehabs has Mayor Ganz apoplectic. We just noticed some of the posts are resolving to 404 errors. I would not be surprised if that is because the Mayor has been putting pressure on both groups to take down this story.Too late Mayor once it is out on the internet and been cached it is out there.
Deerfield-News.com has covered the ongoing saga of drug rehabs and sober homes. Deerfield Beach is rife with them like we are with massage parlors.Difference is the drug rehabs own a lot more real estate in town some of the best commercial properties in the city belong to them.Drive down US1 and take a look do you see all those shiny new buildings,drug rehab centers.This city has welcomed them to the point where we are known as the capital of Broward County for drug rehabs.The city is infested with them and we understand people with addictions need a place to go.This Mayor and Commissioners have made Deerfield Beach "drug rehab friendly" and a magnet for them to open and operate here.
Deerfield Beach just should not have accepted the largest percentage of rehabs per capita in the state,it was not needed nor the best use for all of those spots in Deerfield Beach.Now we are paying the price we all see the crime that is spiking.I report on it weekly read the BSO crime blotters weekly.I see the posts on Facebook of people posting prowlers from their home cameras to spread the word of what is going on neighborhood by neighborhood and to be on the lookout for these bad folks who will rob and steal from you in a heartbeat.
The Opioid Epidemic is a national problem Deerfield Beach does not have to be ground zero for all rehab and sober homes in the world.