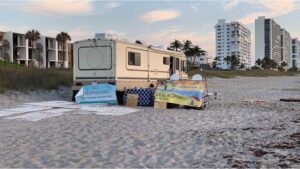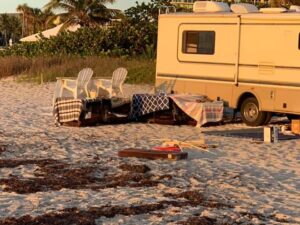 Deerfield-News.com-Deerfield Beach, Fl-While we all love our beach we know we have a littering problem, now "compounded "by a trailer placed on the sand. Deerfield Beach needs to do what they need to do even if that includes paying the property owner for his land.
The property owner is not only exercising their constitutional rights they are using Florida's new private beach statute against the city by not allowing pedestrians to cross their sand.
Seems to us the city of Deerfield Beach could have sought injunctive relief from the courts. Either they tried and failed as an "Injunction" would have issued if they could have demonstrated four things the two most important, likelihood of success on the merits and irreparable harm. Seems they might not have been able to demonstrate either or chose not to.
While the city has a planned event for Saturday, cleaning trash from the beach is being overshadowed by the mobile home on the beach. Cleaning our beach which is riddled with trash is a good thing. The city needs to invest in the proper machinery to "RAKE" our beach instead of pulverizing the trash it picks up and then grinds and redeposits onto our beach.
Time for Mayor Ganz and the gang to face reality, pay the property owner and resolve the issue.
Photos- Linda Stevens