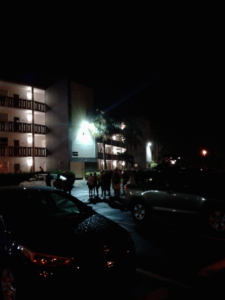 Deerfield-News.com-Deerfield Beach,Fl-In one of Century Villages 4 story condos alarms sounded this morning at about 6am. The fire alarms which had been updated last year to meet the state codes for forty year old structures apparently work.BSO Fire rescue responded checking floor by floor in the 80 unit building to make sure there was no fire. The condo building in CVE  where the alarms sounded was Berkshire A,a building that has had a serious fire in the past.
Like most Florida buildings there is a fairly rigorous forty year check-up and update required.This includes many structural updates including replacing all fire alarms with a newer up to date version.Well they work and work well as over 80 residents evacuated and awaited news from BSO Fire Rescue that all was clear.
The building  was quic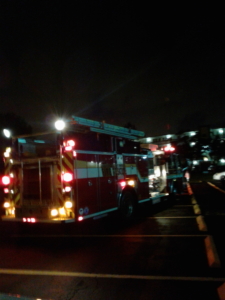 kly evacuated with most residents gathering in the parking lot in front of the building.
BSO Fire rescue teams covered all four floors front and back to make sure there was no fire.Thankfully there was no fire, it was a false alarm no cause for the alarm sounding known at this time.