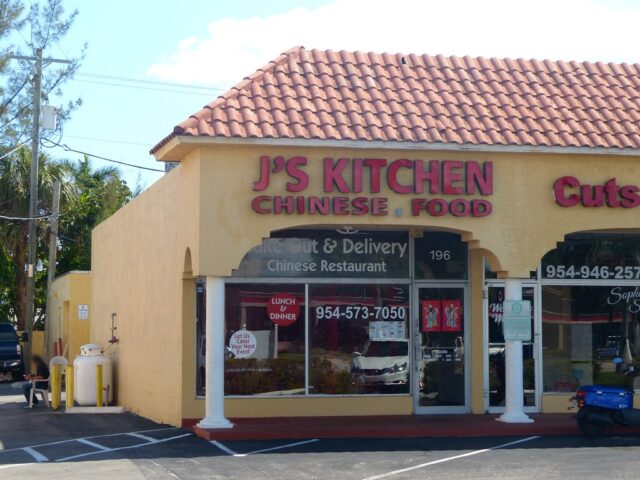 Deerfield-News. com-Deerfield Beach, Fl-Once again J's Kitchen on Federal Hwy had been temporarily closed for violations by the DBPR.
Name: J'S KITCHEN License Number: NOS1623409
Rank: Non-Seating License Expiration Date: 12/01/2023
Primary Status: Current Secondary Status: Active
Location Address: 196 N FEDERAL HWY
DEERFIELD BEACH, FL 33441
Inspection Type Inspection Date Result High Priority Violations Intermediate Violations Basic Violations
Routine – Food 04/12/2023 Facility Temporarily Closed
Operations ordered stopped until violations are corrected.
More information about inspections.
A summary of the violations found during the inspection are listed below. The department cites violations of Florida's sanitation and safety laws, which are based on the standards of U.S. Food and Drug Administration's Food Code. High Priority violations are those which could contribute directly to a foodborne illness or injury and include items such as cooking, reheating, cooling and hand-washing. Intermediate violations are those which, if not addressed, could lead to risk factors that contribute to foodborne illness or injury. These violations include personnel training, documentation or record keeping and labeling. Basic violations are those which are considered best practices to implement. While most establishments correct all violations in a timely manner (often during the inspection), the division's procedures are designed to compel compliance with all violations through follow-up visits, administration action or closure when necessary.
23-24-4 Basic – Buildup of food debris/soil residue on equipment door handles. Observed on walk in cooler door **Warning**
36-06-4 Basic – Cardboard used on floor as anti-slip measure not replaced every day or when heavily soiled, whichever comes first. **Repeat Violation** **Warning**
35A-03-4 Basic – Dead roaches on premises. Observed 5 + dead roaches inside of cook line cooler **Warning**
36-73-4 Basic – Floor soiled/has accumulation of debris. Floor heavily soiled throughout **Repeat Violation** **Warning**
14-69-4 Basic – Ice buildup in reach-in freezer. **Warning**
23-03-4 Basic – Nonfood-contact surface soiled with grease, food debris, dirt, slime or dust. Observed on walls and shelving throughout. Hood filters heavily soiled **Warning**
22-16-4 Basic – Reach-in cooler interior/shelves have accumulation of soil residues. **Warning**
35A-05-4 High Priority – Roach activity present as evidenced by live roaches found. Observed 10+ live roaches at hand wash sink next to triple sink. Roaches located behind hand wash sign and in between sink and wall. Observed 2 live roaches on shelving above triple sink holding wares and dry storage items. Observed 20+ live roaches inside of bag of single service containers stored on top shelf above triple sink Observed 20+ live roaches inside of cook like cooler **Warning**
35A-23-4 High Priority – Roach excrement and/or droppings present. Observed high accumulation on roach droppings on wall at hand wash sink and on shelving above hand wash sink and triple sink **Warning**
03A-03-5 High Priority – Shell eggs not stored at an ambient air temperature of 45 degrees Fahrenheit or less. Operator states out less than 2 hours.**Warning** **Warning**
01B-02-5 High Priority – Stop Sale issued on time/temperature control for safety food due to temperature abuse. Time/temperature control for safety food cold held at greater than 41 degrees Fahrenheit. cooked pork (50°F); sprouts (48°F); raw shrimp (50°F); raw beef (47°F); cooked rice (51°F); egg roll (46°F) stored in walk in cooler. Monitored unit for 20 minutes with no changes in temperature. Unknown time out of temperature. Items not prepared or portioned today. See Stop Sale cooked pork (70°F); sprouts (56°F) in cook line flip top cooler. Unknown time out of temperature. See Stop Sale **Repeat Violation** **Warning**
03A-02-5 High Priority – Time/temperature control for safety food cold held at greater than 41 degrees Fahrenheit. cooked pork (50°F); sprouts (48°F); raw shrimp (50°F); raw beef (47°F); cooked rice (51°F); egg roll (46°F) stored in walk in cooler. Monitored unit for 20 minutes with no changes in temperature. Unknown time out of temperature. Items not prepared or portioned today. See Stop Sale cooked pork (70°F); sprouts (56°F) in cook line flip top cooler. Unknown time out of temperature. See Stop Sale **Repeat Violation** **Warning**
53A-01-7 Intermediate – Manager or person in charge lacking proof of food manager certification. Operator: Oscar Hsu **Warning**
2601 Blair Stone Road, Tallahassee FL 32399 :: Email: Customer Contact Center :: Customer Contact Cent