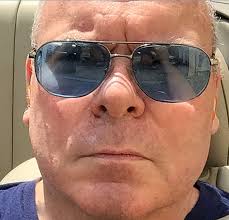 Deerfield-News.com-Deerfield Beach,Fl-From Bocawatch.org who credits others in the media.Anyway it looks like Deerfield Beach, "Agent Provacateur" and consultant,advisor friend of our Mayor and others and son of firemans pension board trustees Timmy Chaz Stevens is being outdone.Normally it is Timmy who is a the forefront of this type of shenanigans.
The following article was written by Joshua Gill and originally appeared on www.dailycaller.com/
A Florida teacher plans to erect a Satanic display at a park during the Christmas season to entice children to "hail Satan," outraging local parents.
Preston Smith, who teaches language arts at a Boca Raton middle school, said he plans to display a 300-pound metal Satanic pentagram, sporting "One Nation Under Antichrist," "May The Children Hail Satan," and "In Satan We Trust," in Sanborn Square, according to WND.  Smith, who made a similar Satanic spectacle in the park last year, will erect this year's exhibition to protest a Nativity scene also displayed in the park, according to Christian Today.
"'May the Children Hail Satan' is an artistic expression of defiance toward the Sanborn Square nativity scene, which performs an annual re-enactment of predatory indoctrination in a public park targeting young children before they have critical thinking skills," Smith told WPTV. "Satan and God are clearly both fictional characters devoid of any verifiable peer-reviewed scientific evidence."
Smith's plans outraged local Christians, especially pastor Mark Boykin of Church of All Nations, who promised to destroy the display with a sledgehammer should Smith dare to put it up and entice children to Satanism.
"In essence they're putting out a welcome mat for Satan," Boykin told CBS 12. "I think this is reprehensible. I think it's an insult to our city. … It's evil, it's the essence of evil. I will take the responsibility for taking the sledgehammer and knocking it down."
Boca Raton Mayor Susan Haynie decried the message of Smith's display, but said that the city could not legally oppose it due to First Amendment protections.
"I find this extremely offensive. But you know, again, we've chosen as the council to honor free speech," Haynie told CBS 12.
Deputy Mayor Jeremy Rodgers affirmed Haynie's statement, adding that the repercussions of opposing Smith's display would be more than the city government wanted to bear.
"We can't say no to this, as offensive as it is. Our lawyers said whatever you do, don't do that. Because it will be an expensive lawsuit," Rodgers told CBS 12.
While the city's hands may be tied, Smith's career as a teacher may be in jeopardy, as Kim Bremer, president of the local parent-teacher association, said she wants to bring a metaphorical sledgehammer to Smith's employment at Boca Raton Community Middle School.
"A teacher we entrust our children with should not be putting a sign like this anywhere," Bremer told CBS 12.lessde read
.Anyway it looks like Deerfield Beach Agent Provacateur,general pain in ther ass and consultant,advisor friend of our Mayor and others and son of Firemans Pension Board Trustees is being outdone.by a Boca Raton teacher..