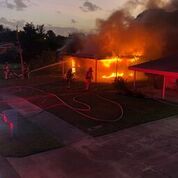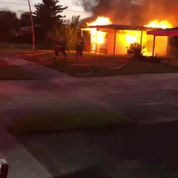 Deerfield-News.com-Deerfield Beach,Fl-An abandoned home on a quiet street in Deerfield Beach had neighbors exploring to investigate when the small, single-family home in the College Park neighborhood became engulfed in flames tonight.
Broward Sheriff Fire Rescue firefighters responded to the residential structure fire located at 409 NW 2 Way in the city of Deerfield Beach shortly before 6 p.m. on Saturday. As firefighters descended within blocks of the scene, they could already see heavy smoke bearing down on the neighborhood which is located East of I-95 and North of Hillsboro Blvd.
The 1,300 square foot home, was fully engulfed and aglow in fire with flames blowing out of nearly every window as firefighters made an aggressive attack on the structure which took the near thirty firefighters on the scene about twenty minutes to quench.
The cause of the fire is unknown at this time however the home is a total loss. The Florida State Fire Marshal's Office will be investigating.
Thankfully no injuries to civilians or firefighters were reported.
Report By-BSFR-PIO Chief Michael Kane
Photo credit: Ray Briant/BSFR