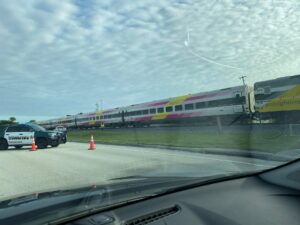 Photo-Margi Bre
Deerfield-News.com-Deerfield Beach-BREAKING NEWS-Reports of another Brightline/Virgin train vs another pedestrian this Am. Deerfield-News.com has contacted both BSO Fire Rescue and BSO. BSO Fire Rescue PIO Chief Michael Kane has responded to our email but referred us to BSO as they are handling the accident and investigation. We have no confirmed details yet from BSO. Readers report it was a pedestrian vs train accident with one death.
By our count, this would make the 19th death by Brightline/Virgin trains of motorists and pedestrians in the Tri-county area. Please, folks, you can not outrun the train. Please pay attention to the gates and lights. Breaking News details to follow.
Seek an alternative route to avoid the area.
UPDATE-From BSO PIO Robyn Hankerson-
Around 7 a.m., Broward Sheriff's Office Regional Communications received a call regarding a Brightline train that struck a pedestrian near South Dixie Highway and Southwest 15th Street in Deerfield Beach. Broward Sheriff Fire Rescue pronounced the male dead at the scene. BSO homicide detectives are investigating. Traffic has been impacted in the surrounding area.
Thank you,
Robyn Hankerson