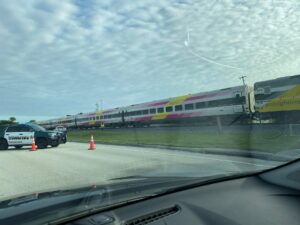 Photo-Margi Bre
Deerfield-News.com-Deerfield Beach,Fl-BSO Sheriff Tony has a message for all about trains and safety.
This year, we have had 12 train-related incidents in Broward County resulting in fatalities.
We urge you to use precaution and heed the warning signals that indicate when a train is coming. "It's never a good idea to try to beat the train," says Sheriff Gregory Tony. deaths
Deerfield-News.com has reported 18 deaths in the tricounty area from train involved accidents in the last 20 months.
This year, we have had 12 train related incidents in Broward County resulting in fatalities. We urge you to use precaution and heed the warning signals that indicate when a train is coming. "It's never a good idea to try to beat the train," says Sheriff Gregory Tony. #trainsafety #saferBroward

Posted by Broward Sheriff's Office on Thursday, November 14, 2019