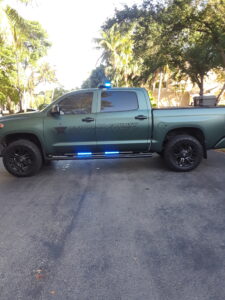 Deerfield-News.com-Deerfield Beach, Fl-From BSO-
DETECTIVES INVESTIGATE CRASH THAT KILLED PASSENGER IN DEERFIELD BEACH
BSO Case Number:

10-1911-001538
Jurisdiction:

Deerfield Beach
Place of Occurrence:

4200 block of Northeast Third Avenue, Deerfield Beach
Victim(s):

Andrew Alvarado, 33, male, 7/8/1986, 653 N. Powerline Rd., Pompano Beach (DECEASED)
Driver:

Stephanie Binger, 32, female, Deerfield Beach
A 33-year-old man was pronounced dead Saturday morning after the car he was a passenger in crashed and caught fire.
The single-vehicle crash took place around 5:45 a.m. in the 4200 block of Northeast Third Avenue. Stephanie Binger was driving northbound on Third Avenue when she crossed into the southbound lanes and hit the curb on the west side of the roadway. The vehicle proceeded over the sidewalk, crashed into a concrete utility pole and caught on fire.
Broward Sheriff Fire Rescue extinguished the fire and discovered a passenger, Andrew Alvarado, in the front seat. The driver escaped the vehicle and Broward Sheriff Fire Rescue transported her to Broward Health North with non-life threatening injuries.
Traffic Homicide detectives continue their investigation.
INVESTIGATORS:
Dets. Williams & Morales, THI
Sgt. Hager, THI
Deerfield Beach; BSFR
THIS REPORT BY:
Miranda Grossman/PIO
11/11/19            1530