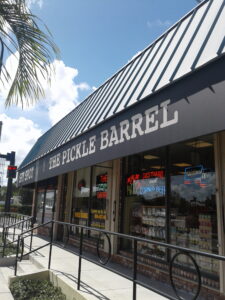 Deerfield-News.com-Deerfield Beach, Fl-For the first time in many years Deerfield Beach ahs more than one deli. The Pickle Barrel a Deerfield Beach legend, now has 2 new competitors. We have been loyal fans of The Pickle Barrel from the start in 1974. Anyone who has been there knows they are famous for their overstuffed deli sandwiches, corned beef, pastrami, brisket and more.
Now Deerfield beach also has Bronx Bagel and Deli on Powerline just south of Hillsboro who bakes bagels and has a deli. They too have nice sandwiches, corned beef,  brisket and pastrami and more. Bronx Bagel and Deli also has many bakery items from black and white cookies to rugelach and babkas.
Moishe's Montreal Deli has just opened in Deerfield Mall. A Montreal style deli offering the famous Montreal smoked meat and beef brisket and other Montreal dishes such as poutine. Poutine is a dish that includes french fries and cheese curds topped with a brown gravy. It originated in the Canadian province of Quebec and emerged in the late 1950s in the Centre-du-Québec area. It has long been associated with Quebec cuisine.