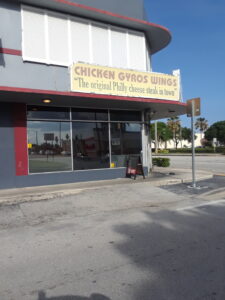 Deerfield-News.com-Deerfield Beach, Fl-Our pick for Best Cheesesteak still has to go to The Steak Shop a South Florida original since 1986.
We love Direct From Philly.com at The Chevron in Deerfield Beach and they too have a nice product. That said The Steak Shop which was originally on US-1 South of Sample in the old Lums is still as good as ever. No Amoroso roll, no choice of the type of cheese, but the roll is nectar and the white cheese excellent. They do have sauces if you like, and my favorite is the wine sauce but one hell of a cheesesteak and some great crinkle-cut fries. One order of fries is plenty for two or three folks. Now for you aficionados who want to harass me because I prefer my cheesesteak chopped and not sliced like Geno's, that is right we prefer Pat's chopped style for our cheesesteaks.
Now located on Sample Road just west of US 1 The Steak shop is just as good today as it was in 1986, so get on out to Pompano and have an authentic Philly Cheesesteak.