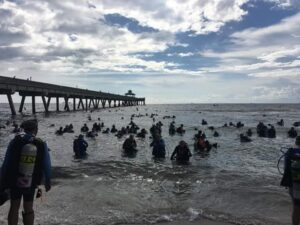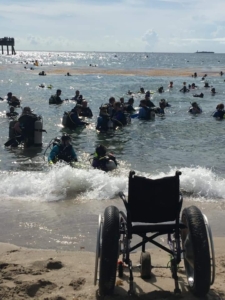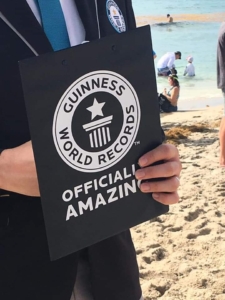 Photos- Kathryn Armstrong-
Deerfield-News.com-Deerfield Beach,Fl-From Dixie Divers Facebook-Update Record has bee set with 633 divers.
Guinness World Record – Largest Underwater Clean-Up
It's a new year and time to break a new world record! We are combining a world record attempt with our 15th annual pier cleanup, to add to our current Guinness World Record title of, The Longest Human Chain Underwater with 386 scuba divers. Today Saturday June 15, 2019, we will attempt to break the Guinness World Record for the Most participants in an underwater clean-up in 24 hours (single venue) at the Deerfield Beach International Fishing Pier, Deerfield Beach, FL.
The current Guinness World Record is held by Ahmed Gabr with 614 divers on June 5, 2015 in the Red Sea, Egypt. Our target is 700.
In 2018, the annual cleanup removed 1,000 lbs of lead weights, 52 lbs wood, 161 lbs fishing line, 104 lbs metal, and 102 lbs of miscellaneous debris for a total of 1,465 lbs of material removed from Deerfield Beach shores. Additionally, 219 miles of fishing line was removed from the pier's pilings.
This is a dive community event; we want EVERYONE in the dive community to join us. Last year we had individuals who were just certified, individuals diving their entire lives, young and old, locals and divers from other countries came to join us! If you're a certified diver, you're qualified to participate.
-Divers will provide their own FULL tank and all other equipment (BCD, regulator, mask, snorkel, fins, and weights) for the event.
-Each diver will be provided with a numbered clip to determine our total count and should be clearly visible.
-Dive Clubs, Dive Teams and Dive stores are encouraged to wear their logos and distinguish their Teams with T-shirts, Headbands, Banners, etc to promote their organization! Please sign up at the link provided. You can register under teams for the event.
-The media will be present to share our story with the world and we will also be putting together our Annual Event Video for Facebook and YouTube.
All participants need to register prior to the event. This will expedite the check-in process on event day. Participants divers will receive a Special event Moisture Wicking Long Sleeve UV Shirt, a small gift bag from some of the scuba diving industry vendors and you will also be eligible to apply for an official certificate of participation directly from Guinness World Record. Cost for participation in the Guinness World Record is $30 the Pier CleanUp still free to all.
Participant Registration Link:
https://www.racersignup.com/world-record-attempt-largest-clean-up-underwater/register/
Volunteers for the land duties such as pulling up the buckets the divers will fill with mono-filament line and lead sinkers and to co-ordinate the surface onlookers.Volunteers who register online will receive a free event t-shirt and goodie bag.
Cost: Free
Volunteer Registration Link:
https://www.racersignup.com/world-record-attempt-largest-clean-up-underwater/volunteer
Procedure for All Volunteers (Divers, Snorkelers and helpers out of water)
-We will start all operations for unloading and registration at 7:30 A.M.
-Unload in front of the pier, anyone who wants to park in the pier parking lot will have to pay.
– Park Free at Main Parking Lot. (the one on the side of Fire Station) ONLY 90 FREE SPOTS AVAILABLE – first come first serve!
– Must have C card or Certification Number for Divers and Liability release signed before get in the water.
– Dive is from the Beach from 9 A.M. to 11 A.M.
– Bring cutting tools (for mono-filament) snips, scissors, and small rake.