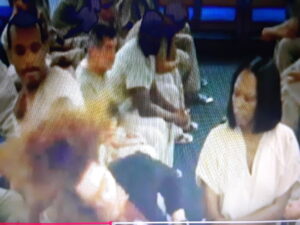 Deerfield-News.com-Deerfield Beach,Fl-
The BSO Public Information Office is currently working a developing incident regarding a statement from Sheriff Gregory Tony.
Here's what we know so far:
Today at 8:55 a.m. inmate William Green assaulted Assistant Public Defender Julie Chase while he appeared before a magistrate judge at the Mail Jail. Green was awaiting a hearing following an arrest on a battery charge at a mental health facility. Three detention deputies restrained Green immediately after the attack. He is now facing additional battery charges. No one else was injured during the incident.
Sheriff Gregory Tony said, "It's troubling that an inmate would assault an officer of the court. I've reviewed the footage of the bond court incident and have gone over the facts with command staff in the Department of Detention. I learned that over the last several years, BSO has received numerous requests from the Public Defender's Office (PDO) asking for a more lax approach to our security procedures during magistrate hearings, which take place through a closed circuit television feed from inside the jail. Although I understand their concern that having deputies standing close to the inmates or having them wear handcuffs or shackles could imply guilt, they must in turn understand that their requests made it possible for this unusual situation to occur. As the senior ranking law enforcement official for Broward County, I am obligated to ensure all policies related to the protection and safety of our court officials are enforced. Effective immediately all inmates will be handcuffed during these proceedings as to reduce the ability of an inmate to cause similar harm or greater. The safety of my fellow criminal justice practitioners are of the highest priority."
This information should be considered preliminary, and as with any developing situation, the details may change.