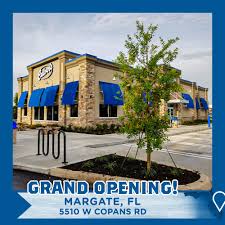 Deerfield-News. com-Deerfield Beach, Fl- This was our second trip below is a quick review of our second trip tonite to Culver's.On the "Portnoy Pizza Scale"  for food tasting Culver's from Wisconsin gets a 9 for their Double Cheddar Butterburger. Culver's just opened in Margate on the NW corner of Royal Palm(Copans) and 441 They like In N and Out have a cult-like following of burger lovers. I was impressed with the tastiness of the Double Cheddar Butter Burger. Service at the drive-thru was speedy and polite. I also tried their chocolate custard and fries and root beer. All of which were good but not a nine like the burger.
Ok, trip number two. I still give the Double Cheddar Butterburger a 9 again on the Portnoy pizza scale, chocolate malt gets an 8.5 and crinkle-cut fries a 7. Worth the quick drive to Margate and yes the drive-thru has a line second only to Chick Fill A so be patient.
From Culvers.com-
FROM FAMILY-OWNED RESTAURANT
TO FAN FAVORITE FAR AND WIDE
In 1984, Craig and Lea Culver, along with Craig's parents George and Ruth, opened the very first Culver's in the family's beloved hometown of Sauk City, Wisconsin, and began serving ButterBurgers® and Frozen Custard.
Craveable as our signature combination is, the Culver family knew right away that although the business is centered around the food, it is really about the people. While folks can vividly recall the first time they bit into a ButterBurger or tasted a scoop of rich, creamy Fresh Frozen Custard, it's our way of welcoming guests that truly makes Culver's delicious.
THE FIRST CULVER'S

Craig and Lea Culver, along with Craig's parents, George and Ruth, introduced the world to Culver's ButterBurgers and Frozen Custard in Sauk City, WI, in 1984.

INTRODUCING THE BUTTERBURGER

Fun fact: The first ButterBurgers were made with an ice cream scoop. That's right — fresh beef for the first ButterBurgers was "scooped" into perfect portions, then pressed into the grill to achieve the sear we know and love today.

FROZEN CUSTARD INSPIRATION

Craig knew just what to pair with his signature ButterBurger: Fresh Frozen Custard, a one-of-a-kind, richer-than-ice-cream treat rooted in Wisconsin that he fell in love with back when he was in college.

GEORGE CULVER

George knew a quality product could make all the difference. It was his unwavering commitment to "doing it right" that laid the foundation for how we make our food today: handcrafted with care.

ORIGINS OF THE TABLE TENT

Because every meal was made fresh for every guest, the Culver family needed a way to keep track of who ordered what. Enter: upside-down foam cups with handwritten numbers.

RUTH CULVER

Known by her friends and family as the "Queen of Hospitality," Ruth was a true people person who made everyone feel loved. She believed in taking care of every guest, every time. Her way of treating people continues to inspire us today.

WELCOME, FRANCHISEES

In 1990, the first successful Culver's franchise opened in Baraboo, WI. Back then, part of the deal was that the owner-operator would work right in the restaurant. That's still true today.

CHEESE CURDS!

We're from Wisconsin, so it was only a matter of time. We began serving our famous Wisconsin Cheese Curds in 1997 — and the love for these little golden curds even inspired us to create National Cheese Curd Day on Oct. 15.

OUR FISH FRY TRADITION

The Culver family has strong roots in Midwestern supper clubs. Inspired by the way a good fish fry could bring friends and neighbors together, Craig carried the tradition forward. We still batter each filet by hand and cook it to order, only after you order.

GIVE LOCAL

Our franchisees are members of the communities where their restaurants are and have always looked for opportunities to support the folks who support Culver's. Fundraising events, donations and sponsorships continue to be some of those ways.

LEA CULVER

Lea truly believes we are all better when we take care of one another. From our team members to our guests to our communities, she reminds us that our restaurants are our greatest opportunities to serve others and do our part to make the world the best it can possibly be.

THE CULVER'S FOUNDATION™

Serving our communities goes beyond the restaurant to help make sure all folks have access to basic needs, as well as to promote the development of our youth and their families.

THANK YOU FARMERS® PROJECT

To make sure we have enough good, wholesome food to serve our growing population, we started this project in 2013 to support agricultural education programs that encourage smart farming.

CRAIG CULVER

From a freshly seared ButterBurger to simply holding the door for a guest, having an opportunity to brighten someone's day is a very big deal to Craig. He founded Culver's knowing people just want to be treated nicely — and hopes our guests continue to feel just as welcomed 50 years from now