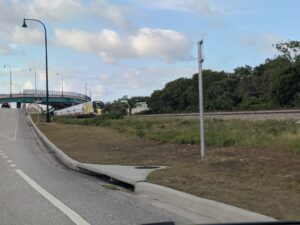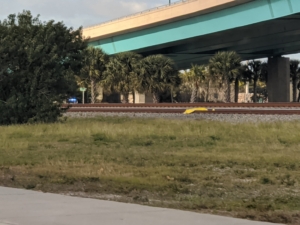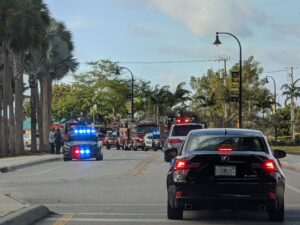 Photos- Cory Coddington
Deerfield-News.com-Deerfield Beach, Fl- Here is what we know about today's Brightline Vs Pedestrian train accident in Deerfield Beach from BSO-
At approximately 8:41 a.m., BSO Regional Communications received a call regarding a northbound Brightline train that struck a pedestrian near 179 N.E. 2nd Ave. in Deerfield Beach. A pedestrian was observed walking in front of the train just before the collision. BSO deputies pronounced the pedestrian deceased on scene. The identity of the pedestrian is pending confirmation from the Medical Examiner's Office. BSO homicide detectives are investigating.
Robyn Hankerson PIO Broward Sheriff's Office
This morning's accident brings the death toll to 43 for victims(our count) in the Tri-County area since the inception of Brightline. Deerfield-News.com has reported, not all of the 42 deaths were by Brightline. We have requested the statistics from Broward County train deaths in the last five years, which includes the time prior to Brightline beginning service to the tri-county area. Recent statistics released show Brightline has the highest amount of deaths by rail of any service provider in the United States per mile traveled. Again we understand most of the deaths are caused either by suicide or impatient drivers trying to beat the train. That said as always with the high frequency of these incidents in behooves all for the NTSB to be investigating to make sure there is not some other issue such as a signal sequencing or a gate timing problem. According to BSFR's response to our email, NTSB was involved in today's' investighation.Deerfield-News.com has contacted the NTSB as well and will post any response received.
Brightline which is owned by Virgin Atlantic also has initiated a program using drones in order to warn people lingering near the railroad tracks of the oncoming train.
Fire Rescue-PIO <FirePIO@sheriff.org> (Add as Preferred Sender)
Date: Mon, Feb 24, 2020 8:27 am
To: "news@deerfield-news.com" <news@deerfield-news.com>
This is an active death investigation and will be conducted by law enforcement in concert with the NTSB. Please reach out to law enforcement for additional details.
Broward Sheriff Fire Rescue & Emergency Services Department
Communications & Public Information
WE UNDERSTAND THESE DEATHS HAVE A TOLL ON BRIGHTLINE EMPLOYEES -FOLKS DO NOT TRY TO BEAT THE TRAIN