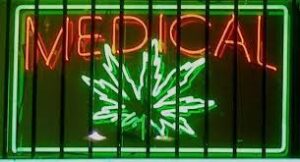 Deerfield-News.com-Deerfield Beach, Fl-Deerfield Beach now has five "Medical Marijuana Dispensaries" up and running. We have contacted the city to clarify how many more have been approved or are in the permitting stage. The city which voted fairly early on to allow dispensaries after voting no has made the right choice. All of the fears and worries about the traffic it would bring into town and unwanted or undesirable folks seems nothing more than nonsense. We at Deerfield-News.com have not been able to find any negative events or police activity tied to any Deerfield Beach-based dispensary. As other local cities including Boca Raton and Delray Beach that have voted no are also under pressure before lawsuits will be filed to reverse their course and permit dispensaries. The citizens of Florida spoke clearly when they voted in favor of Medical Marijuana. It seems some cities are just going to have to have the courts enforce their illegal bans on dispensaries.
Deerfield Beach dispensaries have created local jobs and given medical marijuana patients an alternative to the black market. The medical/legal cannabis industry is in its infancy and is expected to grow tenfold. Deerfield Beach dispensaries are clean well-staffed and seem to run very professionally. They appear like a doctors waiting room on the outside and then like a high-end jewelry store on the inside with showcases and counters full of their products on display. The Medical Marijuana Use Registry keeps track instantaneously of what each dispensary gives to each patient. The state of Florida does have a limit of 2.5 ounces of smokeable marijuana every 35 days. The dispensaries offer other delivery systems aside from smokeable flowers including CBD/THC tinctures, vape cartridges(more to come in the next story on vaping) capsules and topicals. As a result of Florida's late authorization on the smokeable flowers and the statute preventing dispensaries from trading inventory with each other, or bringing it in from out of state they do have a supply problem.
Florida appears to be set to have another ballot initiative for recreational marijuana this upcoming election with more than 500,000 signatures of the one million needed seems to be within the grasp of proponents. Below are the five dispensaries now open in Deerfield Beach serving medical marijuana patients.
CuraLeaf- 148 N Federal Hwy, Deerfield Beach, FL 33441- (754) 212-0060
GrowHealthy-1444 South, N Federal Hwy, Deerfield Beach, FL 33441-(754)-222-3199
Rise-2305 W Hillsboro Blvd Suite 2, Deerfield Beach, FL 33442-(786)-540-4910
TruLieve- 458 W Hillsboro Blvd, Deerfield Beach, FL 33441-(754)-333-4535
VidaCann- 1101 Powerline Rd #104, Deerfield Beach, FL 33442-(954)-708-2114