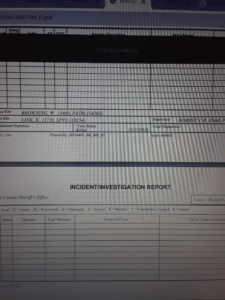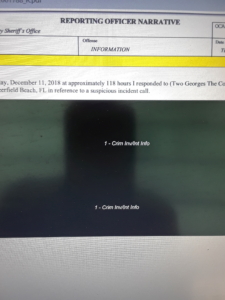 Deerfield-News.com-Deerfield Beach, Fl-Did Deerfield Beach BSO blow it by not making an arrest at Two Georges at The Cove when called for a domestic incident against one of its managers while at work.
Boca Raton Murder Suicide Victim Was Longtime Manager At Deerfield Beach Two Georges At The Cove – PBSO Identifies Victim And Suspect Who Had Outstanding Bench Warrant BSO Sends Us Redacted Public Records
This is the continuation of a murder-suicide in West Boca Raton, where apparently the accused had been detained or arrested by BSO as this police incident report would indicate if not redacted, we also believe the accused had a bench warrant outstanding at the time of this incident. Which raises an if not but for question had BSO arrested the suspect. Obviously, we can not connect the dots, but BSO and PBSO and State Attorneys can. What happened at Two Georges At The Cove that BSO did not arrest Schatz at least for the outstanding bench warrant? Did BSO drop the ball here? The mother of four is dead, people deserve answers. Someone should be investigating this situation.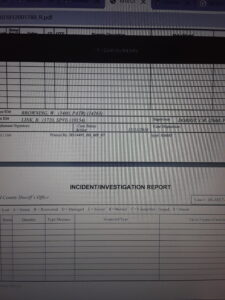 There is a Deerfield Beach connection to the murder-suicide of the two adults mentioned below.
From PBSO – Palm Beach County Sheriff's Office
Time: Shortly before 4:00 pm on Monday 2-18
Location: 22000 block of SW 57th Circle, Boca Raton
Detectives are investigating this incident as a murder/suicide. It appears the male shot the female and then turned the gun on himself. Names and the relationship between the male and female will not be released until next of kin notification has been made to both families.
Teen, 17 years of age, came home and found two adults deceased…one male and one female. We are still in the preliminary stages of this investigation.
PBSO has identified the bodies the female Laura Randall who was 53 and apparently shot by Gregory Schatz 45 who then turned the gun on himself.
There was an outstanding warrant for violation of probation for Mr. Schatz at the time of the shooting.
Our source says the couple were boyfriend and girlfriend.
The victim the female being a manager at Two Georges At The Cove in Deerfield Beach. The female Laura Randall was the victim of a workplace assault at the hands of the apparent shooter. She was punched by the same male in the face at Two Georges At The Cove a few months ago in an apparent domestic violence incident.
Laura Randall according to our readers was a beloved longtime manager at Two Georges At The Cove. Laura Randall was the mother of four children.