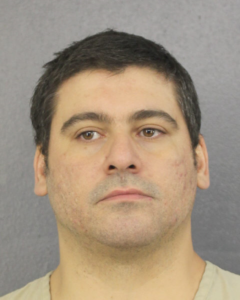 Deerfield-News.com-Deerfield Beach,Fl-From BSO PIO Gina Carter-
DRIVER ARRESTED FOR INTENTIONALLY RUNNING OVER PEDESTRIAN IN PUBLIX PARKING LOT
On April 3, Broward Sheriff's Office detectives released a video of a driver whose bizarre, cruel and reckless behavior resulted in serious injuries to a pedestrian the evening of February 23. Media picked up the story, and viewers called in and helped investigators identify Luis Alberto Ferri as the driver. Ferri surrendered to law enforcement on April 9. He is now facing a charge of aggravated battery and a $50,000 bond.
Security video shows that at approximately 8 p.m., Ferri allowed a pedestrian to walk in front of his car in the Publix parking lot located at 950 East Commercial Blvd. in Oakland Park. As the victim finished crossing the vehicle, the driver accelerated and turned in the direction of the victim. The victim's leg was broken as a result. Ferri fled south on North Dixie Highway.
The security video from inside the Publix store shows Ferri as he entered the store minutes before the attack.
Ferri has a history of arrests in Broward County for various charges including battery, possession of cannabis, possession of cocaine, possession of Xanax and violation of probation.
Anyone with additional information can contact BSO Det. Mirelle Palushaj at 954-321-4226. If you wish to remain anonymous, contact Broward Crime Stoppers at 954-493-TIPS (8477) or online at
browardcrimestoppers.org
.