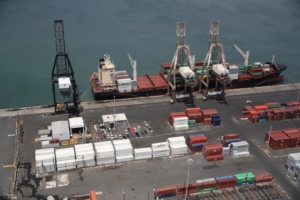 Deerfield-News.com-Deerfield Beach,Fl-Again there will be plenty of time for Crowley and the other US Flagged Vessels protected by The Jones Act,to make plenty of billions more!
Now is not the time to be promoting via social media The Jones Act,now is the time to suspend it!
Let's get the help to Puerto Rico and it's citizens the fastest way possible and that means suspending temporarily The Jones Act.
The domestic maritime industry, of which Crowley is a part, has responded to Hurricane Maria in a big way. The American Maritime Partnership reports 3,000 containers filled with goods were expedited and arrived in Puerto Rico ahead of the storm. U.S. carriers have moved approximately 9,500 containers of goods to the island after Maria; the Jones Act fleet deployed in Puerto Rico has the capacity to carry more than 4,000 containers per week to the island; and the largest U.S. container ship in the trade can carry enough cargo to fill 1,900 cargo planes. Learn more here: http://crow.ly/2yHWdhu