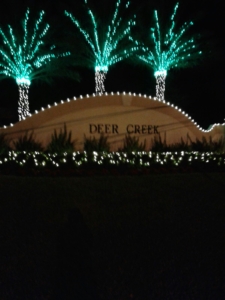 Deerfield-News.com-Deerfield Beach, Fl-We report you decide. We have received the following email from  Dave Clark from Deer Creek Country Club and are reposting our report and his email.
FBMgr <dave@deercreekflorida.com> (Add as Preferred Sender)
Date: Sun, Jan 12, 2020 7:58 am
To: News@deerfield-news.com, Marty Martinez <marty@deercreekflorida.com>, Pamela Wedgwood <pam@deercreekflorida.com>, Catering <catering@deercreekflorida.com>
Good morning Howie and thank you for getting back to me last night. I
was still closing down shop so I missed your call. Last Monday we had a
health inspection that went well except for a few infractions that we
took care of right there on the spot or immediately addressed them so
that when the inspector came out on Wednesday (2 days later) everything
was 100%. The infractions that were most important and needed to be
fixed were our dish machine missing temp by 10 degrees and a few fruit
flies or "Drain Knats" that were under the dish area. We had a tech out
to fix machine while the inspectors were still there and we fogged and
took care of flies that night.
I understand , respect, and appreciate health inspections being
made available to the public but we felt as though this write up had
more of an aggressive or "personal" tone to it. We take a lot of pride
in our property and would never create an environment that would be
unhealthy or unsanitary to our guests and members. We immediately had
some concerns from an upcoming event and wanted to assure our guests
that this is not how we operate.
Once again I appreciate what the Deerfield news does and how they
keep the city informed of the good and bad that we deal with in our area
but I feel this report was a little inaccurate as I personally did the
walkthrough with the inspectors. The facts are in the report but the
way it was printed with the opinion of the author was a little
exaggerated. We have been cleared 100% and I have no problem providing
an updated final report on the follow up.
Thank you for your time…. Dave Clark
2801 Deer Creek Country Club Blvd.
Deerfield Beach, FL 33442
Deerfield-News.com-Deerfield Beach, Fl-My intention today was only to post those with good inspections, then I  came across Deer Creek Country Club too. That said we will start out with the good ones and finish with the dirty ones. First up on the good ones is Duval and Bourbon, a nice job. Next on the good list is Dominos Pizza on West Hillsboro Blvd also no violations, nice job! Subway on Powerline Road also with no violations, nice job! Hungry Howie's also had no violations, nice job!
Deerfield-News.Com Copyright All Rights Reserved 2014-2020
Name: DEER CREEK COUNTRY CLUB License Number: SEA1609180
Rank: Seating License Expiration Date: 12/01/2020
Primary Status: Current Secondary Status: Active
Location Address: 2801 DEER CREEK COUNTRY CLUB BLVD
DEERFIELD BEACH, FL 33442
Inspection Type Inspection Date Result High Priority Violations Intermediate Violations Basic Violations
Complaint Full 01/06/2020 Follow-up Inspection Required
Violations require further review, but are not an immediate threat to the public.
More information about inspections.
A summary of the violations found during the inspection are listed below. The department cites violations of Florida's sanitation and safety laws, which are based on the standards of U.S. Food and Drug Administration's Food Code. High Priority violations are those which could contribute directly to a foodborne illness or injury and include items such as cooking, reheating, cooling and hand-washing. Intermediate violations are those which, if not addressed, could lead to risk factors that contribute to foodborne illness or injury. These violations include personnel training, documentation or record keeping and labeling. Basic violations are those which are considered best practices to implement. While most establishments correct all violations in a timely manner (often during the inspection), the division's procedures are designed to compel compliance with all violations through follow-up visits, administration action or closure when necessary.
23-25-4 Basic – Build-up of grease/dust/debris on hood filters. Shelves in kitchen with debris **Warning**
10-12-4 Basic – In-use ice scoop stored on soiled surface between uses. Ice scoop located on top of machine. Operator removed and sanitized. **Corrected On-Site** **Warning**
12B-13-4 Basic – Opened employee beverage container in a cold holding unit with food to be served to customers. Employee beverages/personal food located in reach In cooler. Operator removed **Corrected On-Site** **Warning**
22-57-5 High Priority – Heat strip failed to indicate the sanitization temperature of 160 degrees Fahrenheit was achieved on the dish surface. Discontinue use of dishmachine for sanitizing and set up manual sanitization until dishmachine is repaired. Advised manager not to use Dish machine until repaired. Operator states employees will use 3 compartment sink. **Warning**
35A-02-5 High Priority – Live, small flying insects in kitchen, food preparation area, or food storage area. Approximately more then 10 flies in dish area by empty glass racks. Observed landing on empty racks. **Warning**
03D-05-4 High Priority – Potentially hazardous (time/temperature control for safety) food cooked/heated yesterday/on a previous day not cooled from 135 degrees Fahrenheit to 41 degrees Fahrenheit within a total of 6 hours. Food has been cooling overnight. See stop sale. Stop Sale issued on potentially hazardous (time/temperature control for safety) food due to temperature abuse. lemon butter (45°F – Cooling); Operator states it was prepped on 1/5/20 at 9 pm. chicken soup (50°F – Cooling) Operator states it was prepped on 1/5/20 at 8 pm **Warning**
22-43-4 High Priority – Quaternary ammonium sanitizer not at proper minimum strength for manual warewashing. Do not use equipment/utensils not properly sanitized.1st test 0 ppm, 2nd test 200 ppm **Corrected On-Site** **Warning**
01B-02-4 High Priority – Stop Sale issued on potentially hazardous (time/temperature control for safety) food due to temperature abuse. lemon butter (45°F – Cooling); Operator states it was prepped on 1/5/20 at 9 pm. chicken soup (50°F – Cooling) Operator states it was prepped on 1/5/20 at 8 pm **Warning**
31B-06-4 Intermediate – Soap dispenser at handwash sink not working/unable to dispense soap. Hand wash sink located across from cook line **Warning**
Deerfield-News.Com Copyright All Rights Reserved 2014-2020