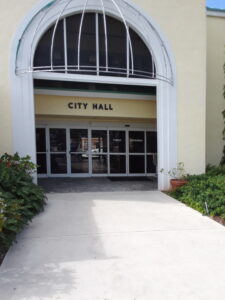 Deerfield-News.com-Deerfield Beach, Fl- Breaking News- In a move that defies logic, transparency in government and it is just a bad political move for our Mayor and 4 commissioners. They voted to destroy public records after two years. The fact that they would fail to maintain recorded video from public city commission meetings makes you wonder what are they trying to hide. I know it is the video record of what they say. They figure after two years and before elections we the people will be too stupid to recall and if the record is destroyed no one will be able to show it.
It appears the city clerks office knew in May that something was amiss with the storing of videos on the cities website. The below email shows the clerk asking for a phone call.
Export
From: Samantha Gillyard Sent:Thu, 09 May 2019 13:33:13
GMT
To: Ron McKenzie
Subject: Please Call
Can you give me a call regarding our city commission videos? 4804216
Samantha Gillyard, CMC,
City Clerk
150 NE 2nd Avenue,
Deerfield Beach, FL 33441
WE ARE NOT HOLDING THE CITY CLERK RESPONSIBLE FOR THE FACT THE COMMISSIONERS AND MAYOR VOTED TO DESTROY VIDEOS WHICH ARE PUBLIC RECORDS AFTER TWO YEARS THIS IS ON THEM.
From: Ben Preston <BPreston@deerfield-beach.com>
Sent: Friday, September 13, 2019 6:31 PM
To: Samantha Gillyard <sgillyard@deerfield-beach.com></sgillyard@deerfield-beach.com>
Subject: Re: 2015 & 2016 Videos
Thank you
Sent from my iPhone
On Sep 13, 2019, at 8:59 AM, Samantha Gillyard <sgillyard@deerfield-beach.com> wrote:</sgillyard@deerfield-beach.com>
Good morning Commissioner Preston,
I wanted to advise you and the other Commissioners that I misspoke
Wednesday night. All videos from 2015 and 2016 were destroyed from
the Granicus platform. I followed up with Dave, PAM, yesterday morning
to confirm which videos were saved, 2017 – present.
Ron and I spoke about moving forward and after the two (2) year period,
Ron will move them to a standalone drive for archival purposes, with me
requesting this action.
Although the videos were deleted from the Granicus platform, Civic Plus
may have a way to retrieve them. I am working on that solution and
should know more by Monday. Although the videos have been deleted,
we still have audio from June 2016 to present. If there is anything else,
please let me know.
Thanks…
<image001.jpg>
Samantha Gillyard, CMC,
City Clerk
150 NE 2nd Avenue,
Deerfield Beach, FL 33441
954.480.4213
This same email was sent o Mayor and the other commissioners as well.
PUBLIC COMMENT – CONTINUED- from 9-11 2019 city commission meeting-
THE VOTE TO DESTROY RECORDS
Mr. Santucci agreed with Mr. Soroka and asked that the City Clerk provide additional information.
Samantha Gillyard, City Clerk, explained that the City is transitioning from Granicus to Civic Clerk and all the
videos had to be removed from the Granicus site. Those videos have been saved, but videos from 2015 will not
be displayed due to the records retention schedule. Additionally, she explained that videos are not kept online as
it takes up server space.
In response to Mayor Ganz's questions, Ms. Gillyard replied that there are still videos from 2015 available and
could be requested as a public record. Also, 2013 videos have been destroyed.
After a lengthy discussion regarding maintaining city commission meeting videos as historical records; it was
determined that only two (2) years would be available online.
MOTION was made by Commissioner Hudak, seconded by Commissioner Parness directing staff to maintain City
Commission Meeting videos as historical records. Voice Vote:
Yeas: 5 – Commissioner Hudak, Commissioner Parness, Commissioner Preston, Vice Mayor Drosky and
Mayor Ganz
Nays: 0
These records are the property of the public and give all citizens and the media a chance to review the record and present the video evidence that was recorded at the time of the meeting. I am not sure about this nonsense we moved to "Granicus"  and now can not maintain a video in the cloud?
You know we still have the video of Mayor Ganz telling us about The Cove Hotel, we have him on video calling out a citizen blogger by name for blogging. We have him on video attacking Deerfield-News.com as used tire salesman blogger with a laptop we have all of these video clips and more. What our elected officials say on the record at a city commission meeting should not be destroyed in any way shape or form. The city of Deerfield Beach's response to our public records requests explains nothing that demonstrates anything about how much money and data space we save. The request shows nothing about why we can not keep all videos on the city of Deerfield Beach's website where they belong for all to see. The request only shows when the city clerk knew we had a problem in May.
THE CITY HAS NOT PROVIDED ANY DOCUMENTATION THAT WE ARE SAVING MONEY OR THAT WE DO NOT HAVE THE CAPACITY  AND ABILITY TO CONTINUE STORING VIDEOS OF CITY COMMISSION MEETINGS AT SOME GREAT EXPENSE.