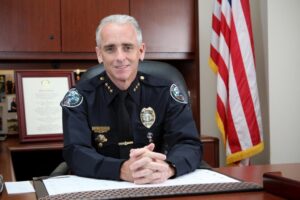 Deerfield-News.com-Deerfield Beach,- Boca's top cop Chief Dan Alexander is set to leave Boca Raton as Chief of Police and become Director of School Police for Palm Beach County. Just days after panic ensued in Town Center Mall and as always Alexander was the face of Boca Police and the no-nonsense spokesperson outside of the mall at a presser clarifying what exactly happened.
The school board is set to vote on the new position Wednesday night, Alexander would report to School Police Chief Frank Kitzerow.
Chief Dan Alexander has been at the helm of Boca's police force for 13 years. Reports of the salary being offered seem substantially less than what Alexander is currently paid by Boca Raton. Palm Beach County like many Florida counties have been in a scramble to fill School Resource Officer positions in light of the MSD shootings in Parkland.
When this blogger lived in The Boca Country Club I was fortunate enough to have The Alexanders as next-door neighbors. I wish Dan and Sandra and family all the best in your new endeavor and have no doubt you will be an asset to Palm Beach County School Police. Thanks for being great neighbors and always being nice to my girls and for removing that snake from my washing machine!