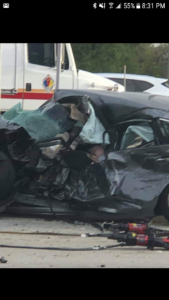 Photos- Joe Longo
Deerfield-News.com-Deerfield Beach ,Fl-From BSO-
TEEN AND GRANDMOTHER KILLED IN DEERFIELD BEACH CRASH
BSO Case Number: 10-1903-004757
Jurisdiction: Deerfield Beach
Place of Occurrence: 4300 block of West Hillsboro Boulevard, Deerfield Beach
Driver No. 1: Breanha Free-Baker, 17, female, 6/6/01, 10706 N.W. 21st Place, Coral Springs (DECEASED)
Passenger No. 1: Robyn Underwood, 61, female, 6/25/57, 450 Commodore Drive, No. 301, Plantation (DECEASED)
Passenger No. 2: Michele Free-Baker, 40, female, Coral Springs (HOSPITALIZED)
Driver No. 2: Andrea Schneider, 21, female, Deerfield Beach (HOSPITALIZED)
Driver No. 3: Melanie Perozin, 22, female, Coconut Creek (HOSPITALIZED)
Driver No. 4: Janis Farese, 54, female, Boca Raton
A teen driver and her grandmother were killed Saturday evening in a multi-vehicle crash in Deerfield Beach. The Broward Sheriff's Office traffic homicide detectives are investigating.
Around 6:20 p.m. March 30, a Dodge Avenger was traveling east on West Hillsboro Boulevard near the 4300 block when it lost control and veered left across the eastbound lanes. The car crossed the raised center median and drove head-on into traffic. The Avenger's driver, Andrea Schneider, collided with three vehicles including the Nissan Altima driven by 17-year-old Breanha Free-Baker. A Chrysler 200 and Hyundai Sonata were also struck.
Based on evidence at the scene and witness statements, detectives with BSO's Traffic Homicide Investigation Unit suspect the Avenger was traveling at a high rate of speed.
The teen and her grandmother Robyn Underwood were pronounced dead at the scene. Michele Free-Baker, the second passenger in the Altima was injured and transported to Broward Health North with injuries said to be not life-threatening. The other three drivers were also injured. Melanie Perozin and Schneider were taken to Broward Health North with injuries described as not life-threatening. Janis Farese had minor injuries and declined transport. The traffic homicide investigation continues.
Anyone with information is asked to contact BSO Traffic Homicide Investigation Detective Anthony Morales at 954-321-4840. If you wish to remain anonymous, contact Broward Crime Stoppers at 954-493-TIPS (8477) or online at 
browardcrimestoppers.org
.
INVESTIGATORS:
Morales & Williams, THI
Deerfield Beach
THIS REPORT BY:
Joy Oglesby/PIO
4/2/19        1010