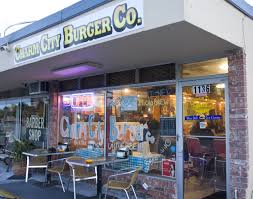 Deerfield-News.com-Deerfield Beach, Fl-Local favorite Charm City Burger Co was forced to close during a recent inspection on 12-13-2018. Charm City has since had 2 reinspections performed by the DBPR since the restaurants' closure again on the 17th and today on the 27th. Violations that lead to the closure included roaches and flying insects. The full reports are below.
Recent Deerfield Beach restaurant inspections also included first All-Star Pizza on Military Trail with a reinspection required.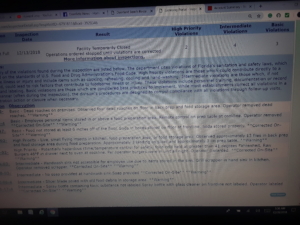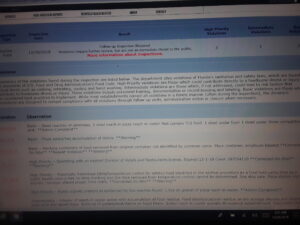 Name:

CHARM CITY BURGER CO

License Number:

SEA1600346

Rank:

Seating

License Expiration Date:

12/01/2019

Primary Status:

Current

Secondary Status:

Active

Location Address:

1136 E HILLSBORO BLVD
DEERFIELD BEACH, FL 33441
Inspection Type
Inspection Date
Result
High Priority Violations
Intermediate Violations
Basic Violations

Complaint Full

12/13/2018

Facility Temporarily Closed




Operations ordered stopped until violations are corrected.


More information about inspections.


2

4

3
Violations:
A summary of the violations found during the inspection are listed below. The department cites violations of Florida's sanitation and safety laws, which are based on the standards of U.S. Food and Drug Administration's Food Code. High Priority violations are those which could contribute directly to a foodborne illness or injury and include items such as cooking, reheating, cooling and hand-washing. Intermediate violations are those which, if not addressed, could lead to risk factors that contribute to foodborne illness or injury. These violations include personnel training, documentation or record keeping and labeling. Basic violations are those which are considered best practices to implement. While most establishments correct all violations in a timely manner (often during the inspection), the division's procedures are designed to compel compliance with all violations through follow-up visits, administration action or closure when necessary.
Violation
Observation
35A-03-4

Basic – Dead roaches on premises. Observed four dead roaches on floor in back prep and food storage area. Operator removed dead roaches. **Warning**

40-06-4

Basic – Employee personal items stored in or above a food preparation area. Remote control on prep table at cookline. Operator removed **Corrected On-Site** **Warning**

08B-47-4

Basic – Food not stored at least 6 inches off of the floor. Soda in boxes stored on floor at frontline. Soda stored properly. **Corrected On-Site** **Warning**

35A-02-5

High Priority – Live, small flying insects in kitchen, food preparation area, or food storage area. Observed approximately 13 flies in back prep and food storage area during food preparation. Approximately 3 landing on slicer and approximately 3 on prep table. **Warning**

03A-02-4

High Priority – Potentially hazardous (time/temperature control for safety) food cold held at greater than 41 degrees Fahrenheit. Raw Burgers 46°F in drawer next to oven at cookline. Per operator burgers were in unit all night. Operator discarded. **Corrected On-Site** **Warning**

31A-03-4

Intermediate – Handwash sink not accessible for employee use due to items stored in the sink. Grill scrapper in hand sink in kitchen. Operator removed scrapper. **Corrected On-Site** **Warning**

31B-03-4

Intermediate – No soap provided at handwash sink.Soap provided **Corrected On-Site** **Warning**

22-06-4

Intermediate – Slicer blade soiled with old food debris in storage area. **Warning**

41-17-4

Intermediate – Spray bottle containing toxic substance not labeled.Spray bottle with glass cleaner on frontline not labeled. Operator labeled **Corrected On-Site** **Warning**

Name:

CHARM CITY BURGER CO

License Number:

SEA1600346

Rank:

Seating

License Expiration Date:

12/01/2019

Primary Status:

Current

Secondary Status:

Active

Location Address:

1136 E HILLSBORO BLVD
DEERFIELD BEACH, FL 33441

Inspection Type
Inspection Date
Result
High Priority Violations
Intermediate Violations
Basic Violations

Complaint Full

12/17/2018

Met Inspection Standards




During This Visit


More information about inspections.


0

1

6

Violations:

A summary of the violations found during the inspection are listed below. The department cites violations of Florida's sanitation and safety laws, which are based on the standards of U.S. Food and Drug Administration's Food Code. High Priority violations are those which could contribute directly to a foodborne illness or injury and include items such as cooking, reheating, cooling and hand-washing. Intermediate violations are those which, if not addressed, could lead to risk factors that contribute to foodborne illness or injury. These violations include personnel training, documentation or record keeping and labeling. Basic violations are those which are considered best practices to implement. While most establishments correct all violations in a timely manner (often during the inspection), the division's procedures are designed to compel compliance with all violations through follow-up visits, administration action or closure when necessary.

| | | |
| --- | --- | --- |
| Violation | | Observation |
| 36-03-4 | | Basic – Cove molding at floor/wall juncture broken/missing. By kitchen entryways in cookline area. |
| 14-11-4 | | Basic – Equipment in poor repair. Lid broken at chest freezer in front counter area. |
| 08B-12-4 | | Basic – Food stored in holding unit not covered. Ice cream not covered at chest freezer in front counter area over night. Food covered. **Corrected On-Site** |
| 36-24-5 | | Basic – Hole in or other damage to wall in storage room near glass door. |
| 38-07-4 | | Basic – Lights in food preparation, food storage or warewashing area missing the proper shield, sleeve coatings or covers. In dry storage room. |
| 31B-04-4 | | Basic – No handwashing sign provided at a hand sink used by food employees. At restroom next to storage room. |
| 03D-15-4 | | Intermediate – Food being cooled by nonapproved method as evidenced by inadequate rate of cooling during time of inspection. Portioned cheese from 49F at 9:20 to 50F at 10:05 cooling since 9:10 on top of make-table at flip top cooler in cookline area. Cheese moved to freezer to quick chill. **Corrective Action Taken** |
Name:

ALLSTAR PIZZA

License Number:

SEA1618745

Rank:

Seating

License Expiration Date:

12/01/2019

Primary Status:

Current

Secondary Status:

Active

Location Address:

1315 S MILITARY TRL
DEERFIELD BEACH, FL 33442

Inspection Type
Inspection Date
Result
High Priority Violations
Intermediate Violations
Basic Violations

Routine – Food

12/18/2018

Follow-up Inspection Required




Violations require further review, but are not an immediate threat to the public.


More information about inspections.


3

1

3

Violations:

A summary of the violations found during the inspection are listed below. The department cites violations of Florida's sanitation and safety laws, which are based on the standards of U.S. Food and Drug Administration's Food Code. High Priority violations are those which could contribute directly to a foodborne illness or injury and include items such as cooking, reheating, cooling and hand-washing. Intermediate violations are those which, if not addressed, could lead to risk factors that contribute to foodborne illness or injury. These violations include personnel training, documentation or record keeping and labeling. Basic violations are those which are considered best practices to implement. While most establishments correct all violations in a timely manner (often during the inspection), the division's procedures are designed to compel compliance with all violations through follow-up visits, administration action or closure when necessary.

Violation
Observation
35A-03-4

Basic – Dead roaches on premises. 5 dead roach in pizza reach in cooler that contain TCS food. 1 dead under fryer 1 dead under three compartment sink. **Admin Complaint**

36-73-4

Basic – Floor soiled/has accumulation of debris. **Warning**

02D-01-5

Basic – Working containers of food removed from original container not identified by common name. Flour container, employee labeled **Corrected On-Site** **Repeat Violation** **Warning**

50-17-2

High Priority – Operating with an expired Division of Hotels and Restaurants license. Expired 12-1-18 Con# 187054110 **Corrected On-Site** **Warning**

03F-02-4

High Priority – Potentially hazardous (time/temperature control for safety) food identified in the written procedure as a food held using time as a public health control has no time marking and the time removed from temperature control cannot be determined. See stop sale. Pizza station and sauces, manager placed proper time mark. **Corrected On-Site** **Warning**

35A-05-4

High Priority – Roach activity present as evidenced by live roaches found. 1 live on gasket of pizza reach in cooler. **Admin Complaint**

22-28-4

Intermediate – Interior of reach-in cooler soiled with accumulation of food residue. Food debris/dust/soil residue on dry storage shelves and shelves in prep area and speed trays. Build-up of grease/dust/debris on hood filters. Soiled reach-in cooler gaskets throughout establishment. Floor/table fan has accumulation of food debris/dust/grease/soil residue. **Warning**

Inspection Type
Inspection Date
Result
High Priority Violations
Intermediate Violations
Basic Violations

Routine – Food

12/19/2018

Follow-up Inspection Required




Violations require further review, but are not an immediate threat to the public.


More information about inspections.


1

1

2

Violations:

A summary of the violations found during the inspection are listed below. The department cites violations of Florida's sanitation and safety laws, which are based on the standards of U.S. Food and Drug Administration's Food Code. High Priority violations are those which could contribute directly to a foodborne illness or injury and include items such as cooking, reheating, cooling and hand-washing. Intermediate violations are those which, if not addressed, could lead to risk factors that contribute to foodborne illness or injury. These violations include personnel training, documentation or record keeping and labeling. Basic violations are those which are considered best practices to implement. While most establishments correct all violations in a timely manner (often during the inspection), the division's procedures are designed to compel compliance with all violations through follow-up visits, administration action or closure when necessary.

| | | |
| --- | --- | --- |
| Violation | | Observation |
| 35A-03-4 | | Basic – – From initial inspection : Basic – Dead roaches on premises. 5 dead roach in pizza reach in cooler that contain TCS food. 1 dead under fryer 1 dead under three compartment sink. **Admin Complaint** – From follow-up inspection 2018-12-19: No roaches observed. **Admin Complaint** |
| 36-73-4 | | Basic – – From initial inspection : Basic – Floor soiled/has accumulation of debris. **Warning** – From follow-up inspection 2018-12-19: **Time Extended** |
| 35A-05-4 | | High Priority – – From initial inspection : High Priority – Roach activity present as evidenced by live roaches found. 1 live on gasket of pizza reach in cooler. **Admin Complaint** – From follow-up inspection 2018-12-19: No roaches observed. **Admin Complaint** |
| 22-28-4 | | Intermediate – – From initial inspection : Intermediate – Interior of reach-in cooler soiled with accumulation of food residue. Food debris/dust/soil residue on dry storage shelves and shelves in prep area and speed trays. Build-up of grease/dust/debris on hood filters. Soiled reach-in cooler gaskets throughout establishment. Floor/table fan has accumulation of food debris/dust/grease/soil residue. **Warning** – From follow-up inspection 2018-12-19: **Time Extended** |