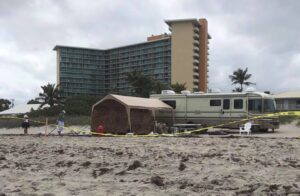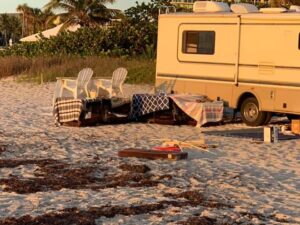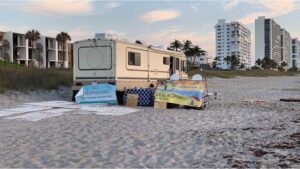 Deerfield-News.com-Deerfield Beach, Fl-In the ongoing week-long protest of a Deerfield Beach landowner that has gotten the attention of many. City leaders have once again failed residents by not having this issue resolved long ago.
Deerfield-News.com has posted we blame the City of Deerfield Beach for not having had this issue resolved. The fact that the landowner has to occupy the sands of Deerfield Beach to make their point, is the cities fault. Again we will state for the record at the end of the day Ms. Clothier will prevail and with a sale.
We encourage her to seek permits for a Ferris Wheel and New Jersey-style pier complete with rides and a midway , hopefully, some local investors will back the project and we can really put Deerfield Beach on the map.
We will no longer be known just for storage warehouses, massage parlors, the rub n tug kind, drug rehab facilities sober homes, and cannabis dispensaries but the town with the cool pier!
Photos- Diane Parent -Linda Stevens