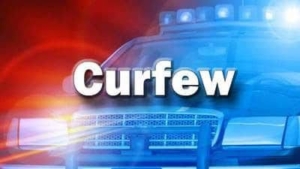 Deerfield-News.com-Deerfield Beach,Fl-Palm Beach County Sheriffs Office has posted the following to their Facebook page.Our question is what happens to a Broward resident who crosses into Boca Raton or unincorporated West Boca for whatever legitimate purpose or for whatever reason?
I do remember curfews after Wilma,it seemed they were a little clearer than what I see on the Facebook from Palm Beach County Sheriff.
Subject: Palm Beach County Curfew Clarification
From: >
Date: Fri, September 08, 2017 8:20 pm
To:[email protected]
Media Relations,
Can you clarify if a Broward resident drives across the county line for whatever legitimate reason tomorrow at 3.01 what happens.Who is allowed the post on Facebook isn't clear. If I want to come take pictures for my blog why would I be subject to the curfew?
Then what about John Q Citizen who for whatever reason crosses the county line ?
Thanks,
Howard Levy
Deerfield-News.com
Subject:
Re: [FWD: Palm Beach County Curfew Clarification]
From:
"Barbera, Therese C" (Add as Preferred Sender)
Date: Fri, Sep 08, 2017 7:32 pm
To: "[email protected]"
If you are a member of the media kindly show anyone that questions you your credentials
Sent from my iPhone
On Sep 8, 2017, at 8:24 PM, "[email protected]" > wrote:
**This email was sent from an external (non-PBSO) source.**.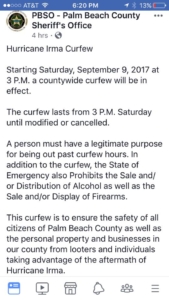 The following is a response from Broward County, they will determine tomorrow what they will do.
From:
Broward County Public Info
Date: Fri, Sep 08, 2017 4:06 pm
To: "'[email protected]'"
Cc: "Barrick, Ric"
There is no curfew in effect for Broward County at this time. We will assess the situation early on Saturday to make that determination.