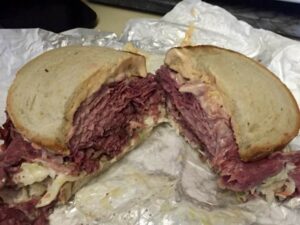 Below story from October 2020-
Deerfield-News. com-Deerfield Beach, Fl-In our foodie search for the best local eats we are once again at the Pickle barrel. What can you say in Deerfield Beach since 1974 and a bunch of great sandwiches?
Today we had the corned beef lean on rye with Russian dressing and coleslaw a solid 8.8 out of ten on the foodie scale. Here is our recent post about the Pickle Barrel.
Deerfield-News.com-Deerfield Beach, Fl-With Eat Local, and to support Deerfield Beach businesses we stopped in to visit one of our Deerfield Beach favorite spots The Pickle Barrel.
.
Time to talk again about "The Best Deli in Deerfield Beach" hands down The Pickle Barrel. From the time my grandparents moved to Deerfield Beach in 1974 I have been enjoying their sandwiches. Most longtime residents have been going there for decades as well. My favorites Corned Beef, Pastrami, Brisket, and "The Deli Dinger" Corned Beef Roast Beef and Pastrami. All of it as good as it gets!
Service at The Pickle Barrel is excellent, they have eat in, take out and they also offer delivery.
Had the brisket today on rye with mustard as good as ever and let's not forget the pickles I am a Half sour guy.
Originally established in 1974 located at 133 East Hillsboro Boulevard.
They offer a complete array of deli meats by the pound also, salads, knishes, pickles, rye bread, rugulah.Chinese marble cookies, black and white cookies, and more.  The Pickle Barrel also can cater for your next party or corporate event.
You can find them on the web at www.picklebarrelfl.com or call them at 954-427-0650l