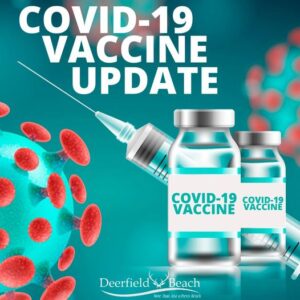 Deerfield-News. com-Deerfield Beach, Fl-Vaccine information from the city of Deerfield Beach.
DFB COVID-19 Vaccination Update
The City of Deerfield Beach is pleased to share several important updates about the vaccination effort statewide and in Deerfield Beach.
Monday, March 1, 2021, Florida Governor Ron DeSantis expanded COVID-19 vaccine eligibility to those considered extremely vulnerable to the virus. Under 
Executive Order 21-46
 persons deemed by a physician to have high-risk medical conditions will be able to get the COVID-19 vaccine. The following populations were also included in the amended state order.
Long-term care facility residents and staff
Persons 65 years of age and older
Health care personnel with direct patient contact
K-12 school employees 50 years of age and older
Sworn law enforcement officers 50 years of age and older
Firefighters 50 years of age and older
Secondly, the City is actively working with the Department of Health to secure a COVID-19 vaccination pop-up site in our community. As more information becomes available about that we will bring it to you via this City News email blast, social media, and the city website www.dfb.city.
Vaccinations in DFB
The City has been assisting the community with vaccines since they became available in late January. The Center for Active Aging has been accepting the names, contact information, and other pertinent information for seniors 65+ and older along with individuals under the age of 65. Staff has conducted outreach and solicited residents at our local government housing facilities, our "disaster at risk" residents, and our vulnerable population. This list includes over 500 individuals who have been assisted with:
Vaccination questions
Assistance with how to schedule appointments and various vaccination locations
Transportation to Broward Health for vaccine appointments, as needed.
If you are a caregiver who resides in Deerfield Beach or if you have a loved one who lives in the City and needs vaccination assistance, please contact The Center for Active Aging at 954-480-4450.
While Broward Health North (BHN) has a limited number of COVID-19 vaccine appointments, the City has partnered with BHN (in Deerfield Beach) to request vaccine appointments for over 350 residents.
Century Village was one of the first vaccination sites in Deerfield Beach, and we are so excited to announce a total of 4,050 first and second-round shots were administered. Officials began to administer the Phizer vaccine on January 5th and ended second-round shots on February 2, 2021. Vaccinations have also been provided to all Nursing Facilities/Homes and Assisted Living Facilities (ALF) in the City.
In total, 55-percent of the 65+ population in Broward County have received at least their first dose of the vaccine.
How to Get Vaccinated
Governor DeSantis announced the establishment of a new regional COVID-19 vaccination site in Broward County, to provide underserved populations greater access to the vaccine. This new vaccination site at Broward College – North Campus will provide vaccines to frontline health care workers and individuals 65 years of age and older. Each site will administer 200 vaccines per day and will be open 7 days a week.
Broward College – North Campus
1000 Coconut Creek Blvd
Coconut Creek, FL 33066
The state continues to prioritize persons 65 years of age and older and health care personnel with direct patient contact and residents and staff of long-term care facilities.
Florida Department of Health registration  – Eligible individuals can register for vaccine appointments online at myvaccine.fl.gov or by calling 866-201-6313 (TTY 833-476-1526). Eligible individuals will be contacted when an appointment is available for them.
Schedule through a participating hospital – supplies of vaccine are very limited.
To check availability and schedule an appointment with local pharmacies and retail stores, please visit:
For More Information:
Individuals that are interested in scheduling an appointment at DOH-Broward managed sites can visit https://myvaccine.fl.gov/ or call 866-201-6313 or 833-476-1526 TTY
COVID-19 Vaccine at Publix Pharmacy
A limited number of COVID-19 vaccine will be available in Broward County at select Publix pharmacies, while supplies last. Vaccination appointments are scheduled online only at publix.com/covidvaccine. Appointments cannot be made by calling Publix or the Publix Pharmacy.
Note: There is no benefit to arriving earlier than the announced start time for booking events. As an example, if your state's next booking event begins at 7:00 a.m., you don't need to arrive before that.