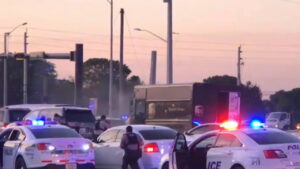 Deerield-News.com Deerfield Beach, Fl-Broward Sheriff Tony issued the following statement shortly after the Dade robbery that ended in Broward County.
Yesterday's incident involving a jewelry store robbery and kidnapping began in Coral Gables and ended in Miramar, outside of our agency's jurisdiction. BSO personnel were not involved in the incident. Our Aviation Unit transported a patient to the hospital. The case is being handled by the FBI and the Miami-Dade Police Department. We offer our sincere condolences to the families who lost loved ones during this tragedy.
Today UPS drivers nationwide and drivers alike had their headlights on in memory of Mr. Ordonez starting at 5 pm.
The chase scene and shootout were caught by local tv stations. The shootout in South Florida left four dead — the two hijackers, the 27-year-old an abducted UPS driver and a 70-year-old man who happened to be idling at the light on his way home from work. The questions now have become how and who shot Mr.Ordonez and Richard Cutshaw. Many law enforcement chiefs and officials have released statements on the difficulties officers face in a situation like this.
Many citizens still are questioning if deadly force with civilians in danger could have been avoided or could have been handled differently.What do you think?