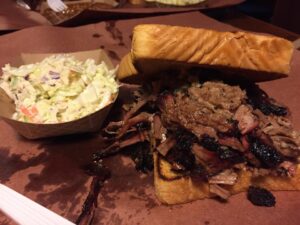 Photo- Gary Heimowitz
New Location 1200 East Hillsboro Boulevard
Deerfield-News. com-Deerfield Beach, Fl-We remember when Fatboyz BBQ first opened on Powerline Road we thought, and still do their BBQ was excellent. Fatboyz reminds me of the old days when Tom's was on Dixie Highway in Boca and the people would wait in lines. Fatboyz is the real deal they are cooking low and slow and know BBQ.
Good news they are back in Deerfield Beach!
This Deerfield Beach eatery has quickly gained a loyal following. With two locations now open in Broward County. They have the  one here in Deerfield Beach and  another on Cypress Creek  just east of I-95
On my first trip to Fatboyz, when they first opened we had the BBQ brisket platter with coleslaw, brisket baked beans, and cornbread. Everything was excellent and having a fountain birch beer to top it off. From the second you are nearby you can smell the BBQ, and it does taste as good as it smells. From the second we walked in we were greeted and felt welcomed staff was super friendly, and the food speaks for itself!
Last week we tried the same as above as a takeout order and it was just as delicious as I ate in the comfort of my living room.
Deerfield-News.com's friend and FatBoyz regular client Gary Heimowitz has told us the BBQ pastrami is the best he has ever eaten.
FatBoyz is now located and open at 1200 East Hillsboro Boulevard!
www.fatboyzbarbeque.com
Smoked Turkey Sandwich

1/2 lb. Smoked Turkey.  Ask for it sliced or chopped

Smoked Pastrami

1/2 lb. hot smoked pastrami

Available Fridays and Saturdays only

Food Truck Menu

Brisket Nachos

Pulled Pork Nachos

Split Decision Nachos

Half Brisket, Half Pulled Pork

Mac Daddy

Pulled Pork topped with smoked mac and cheese on a kaiser roll

Big Daddy

Pulled Pork topped with smoked mac 'n cheese topped with brisket

Whoz Ya Daddy

Brisket topped with smoked mac on a keiser roll

Brisket Cheesesteak

Brisket Cheesesteak sandwich with fries

Plates

Beef Ribs

1 huge Brontosaurus Beef Rib

Friday and Saturday only

Baby Back Ribs

1/2 rack hickory smoked tender baby back ribs

Beef Brisket

1/2 lb. 20 hours of low and slow premium smoked Beef Brisket over post oak and hickory wood

Pulled Pork

3/4 lb. Pulled Pork with 2 sides

Burnt Ends

1/2 lb. succulent Kansas City style beef brisket burnt ends

Smoked Chicken

1 lb. smoked chicken (includes bone-in leg, thigh and breast)

Smoked Turkey Breast

1/2 lb. Hickory Smoked Turkey. Ask for it sliced or chopped.

St Louis Ribs

Half-Rack St Louis style ribs

Two Meat Combo