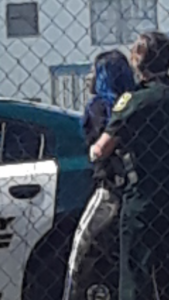 Deerfield-News-Deerfield Beach, FL-UPDATED
Reader reports that today's incident started as a shoplifting incident at Publix in Deerfield Mall. Apparently, the woman in our photo being arrested was stopped by Publix employees with hundreds of dollars of stolen medicines. The woman with her children apparently then fled  Publix got into their car and had a crash on Hillsboro Boulevard.
The incident ended in front of Hillsboro Boulevard and Century Boulevard, involved a hit and run as a result of a police pursuit.
Sources have told Deerfield-News.com BSO was in pursuit of the vehicle that crashed into another vehicle and then a bus stop on Hillsboro just east of the entrance to Century Village.
BSO Fire Rescue and BSO were on the scene.  The injured were transported to North Broward Medical Center.
Deerfield-News.com has a picture of a black female with blue hair being arrested inside of Century Village on Century Boulevard.
More details to follow.