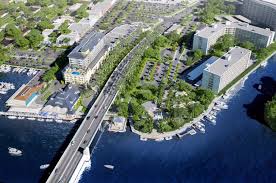 Deerfield-News.com-Deerfield Beach, Fl-The Deerfield Beach City Commission approves HOTEL at The Cove shopping center. The project needed 9 variances and The City granted them. Bluewater Builders is planning a 134 room 9 story hotel on the Intracoastal and Hillsboro Boulevard. The parcel that used to be Pals Captains Table is the beginning of the footprint for the new hotel. The builders agreed to maintain the City-owned parking lot and pick up half of the cost for 10 years at a cost of $375000.00.As a result, The City of Deerfield Beach has agreed not to install controversial parking meters.
Whatever happened to all those promises made on video by Bill Ganz? Where is the Cove Hotel?
PEPPERIDGE FARMS IS A REGISTERED TRADEMARK OF CAMPBELL SOUP CO.