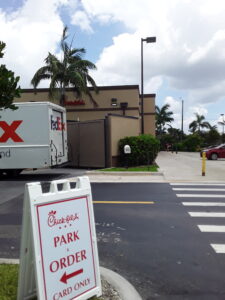 Deerfield-News. com-Deerfield Beach, Fl-As the city of Deerfield Beach ponders the fate of Chick Fill-A on Federal Highway just north of the  Shell gas station at Hillsboro and Federal. There were several concerned residents at the last city commission meeting who spoke about their worries that this will cause traffic problems in both directions on Federal and Eller St.
We thought we would republish our story from 2020 about the traffic issues Chick Fil A caused at the Deerfield Mall. Getting out of Publix the traffic can be like that of the Palmetto Expressway. I know they have tried with extra employees outside and even BSO assistance at times, but they still to this day have issues that cause traffic problems at Deerfield Mall.
Original post-July 13,2020
I may be the only person in Deerfield Beach that does not eat here. Sure seems like they have the busiest drive-thru in town. Today while leaving Publix it is usually difficult to do between 11 and 2 as a result of the traffic backing up at the Chick Fill A drive-thru. I did notice the following signs along with additional employees trying to solve this ongoing issue. Contrary to some reader's posts there is still an issue with traffic backing up at the Chick Fil A on West Hillsboro. Just try to leave Publix when Chick Fil A is busy you will see it with your own eyes.