Deerfield-News. com-Deerfield Beach, Fl-Those that read Deerfield -News.com know the only Jewish guy that eats more pizza than me is Dave Portnoy from Barstool Sports.
Today I went to my favorite local pizzeria in Boca Eastside Pizza. Eastside was owned by Michael Zirpoli, former owner of Michael's Pizzeria in Deerfield Beach. Michael's was a success from the get-go when he opened in 2014 on Hillsboro Boulevard and then later expanded into The Cove shopping center. Michael sold the restaurant last year and opened Eastside Pizzeria on Palmetto Park Road. Fast forward to today.
I normally try to go to Eastside Pizzeria on Sunday nights. Stopped in today and as normal had my first couple of slices on the trunk of my car. I did not even look at my receipt which had the new name Peter's Pizzeria on it. As I was eating a young man, Peter came out back and asked me what I thought. Told him the pizza is excellent! I told him I was a loyal Michael's fan from Deerfield Beach.
Peter who is just 26 told me he has just bought the Pizzeria from Michael and has tweaked the recipe with homemade cheese and special water for the dough. I don't remember when I have had a better slice of regular Neapolitan pizza in South Florida. If you stop in on Wednesday or Thursday you can say hello to Guy DiMaria one of South Florida's best pizza makers and chefs of Frank's Ristorante fame that was in Pompano Beach.
Those of you who read Deerfield-News regularly know I have always said Thick and Thin in West Boca has the best Sicilian pie in the area. Well, Peter's has the best Neapolitan pizza in the area.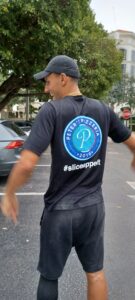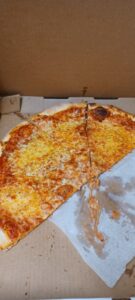 This young man Peter Izzo who has a magnetic personality is super friendly and headed for pizza greatness! Ladies yes this is Peter from season 18 of The Bachelorette fame. I think Parade.com who calls him this seasons "Villain" of The Bachelorette has got that wrong. Peter could not have been friendlier or easier to talk with. Now calling him a "Pizzapreneur" ok there they have it right as this is Peter's second location with the first in Port St. Joe.
I hope those of us Dave Portnoy fans can convince Dave via his app that next time he is back in South Florida to stop by Peter's Pizzeria at 897 East Palmetto Park Road in Boca. On the Portnoy pizza scale, Peter's a solid 8.5!
Peter's is definitely worth the drive from Deerfield Beach! Next time I will try the Sicilian.
Peter's Pizzeria
897 East Palmetto Park Road
Boca Raton,Fl 32456
561-409-3126
www.mypeters.com