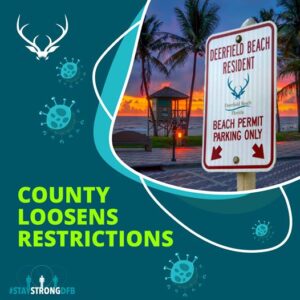 Deerfield -News.com-Deerfield Beach,Fl-From the city of Deerfield Beach.
Broward County Loosens Restrictions
Officials have issued an Order, which further loosens reopening restrictions to beaches, parks, & tattoo parlors. New guidelines are effective Mon, June 1. To read details:
Broward County Loosens Restrictions
Broward County officials have issued Emergency Order 20-14 on Friday, May 29, which further loosens restrictions for beaches, parks, tattoo parlors, and massage establishments. These new guidelines go into effect on Monday, June 1, 2020.
COVID-19 remains a serious threat to public safety. Therefore, the social distancing, facial covering and sanitation requirements remain in place for all businesses that reopen, and all individuals who patronize them.
Highlights of the new order include:
•    Broward beaches are open to picnicking, sunbathing, sitting or lying on the beach. Umbrellas, canopies, chairs, loungers, and coolers are also permitted. Certain restrictions outlined in the County's Emergency Order (Attachment 15) apply. Group or organized sports, such as volleyball, footvolley, soccer or football are not allowed; nor are group gatherings or events of more than 10 people. Beachgoers must maintain social distancing, including while in the water, except between members of the same household or group. Facial coverings must be worn when social distancing cannot be maintained, entering restrooms, and visiting beach concessions. Equipment offered by concessionaires or beachfront hotels (e.g. chairs, loungers, bicycles) must be sanitized between each customer rental. Changing rooms, picnic pavilions, playgrounds and exercise equipment remain closed.
•    Parking at the beach will also be allowed.
•    Tennis and pickleball courts are now limited to a maximum of four people on the court (doubles) at any one time.
•    Tattoo and massage establishments may now operate consistent with Emergency Order 20-12 and must adhere to the guidelines for personal services, as outlined in  Attachment 4.
All businesses are still strongly encouraged to perform remote operations whenever possible and allow employees to utilize telework or other remote working methods that permit social distancing.
Please review Emergency Order 20-14 for the complete list of reopening, requirements and restrictions.
Additionally, all residents and visitors entering a city facility, currently by appointment only, will be required to adhere to temperature checks upon entering beginning Monday, June 1, 2020.
For additional information, visit www.dfb.city/covid19. If you have questions about COVID-19, you are encouraged to call the Broward County COVID-19 hotline at 954-357-9500. For social services, call 954-597-3620 or dial 211 for Broward County's 24/7 helpline.