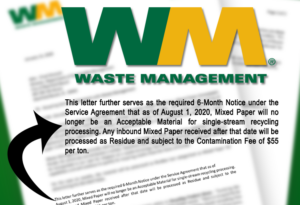 Deerfield-News.com-Deerfield Beach,Fl- Along with many other items that were once recyclable and profitable, paper is now on the do not recycle list.
From the City of Deerfield Beach-
FOR MORE INFORMATION PLEASE CONTACT WASTE MANAGEMENT at (954) 974-7500.
Mixed Paper No Longer Recycled by Waste Management!
The City of Deerfield Beach's recyclables processor, Waste Management (WM), recently informed the City that due to the ongoing decline of market conditions and value of recycling commodities, mixed paper will no longer be accepted in the recycling stream.
Mixed paper is newspaper, mail, magazines, glossy inserts, pamphlets, catalogs, print and office paper as well as school paper.
Effective immediately please do not place any mixed paper in your recycling container. Instead, discard all mixed paper in your trash bins.
The City's current program-wide recycling contamination rate sits above 50%. Placing mixed paper in your recycling cart will only add to the City's recycling contamination level. The City needs residents to help get that contamination level down.
When it comes to recycling "Know before you Throw" by going to the City's recycling program website for the latest information and remember "When in doubt, Throw it out!"
For more information, call Waste Management at (954) 974-7500.