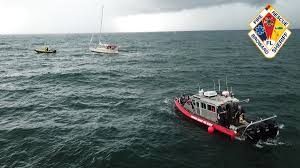 Deerfield-News.com-Deerfield Beach, Fl-FROM BSO-
The BSO Public Information Office is currently working a developing incident regarding a diver's name released located at: Hillsboro Inlet.
Public Information Officer Veda Coleman-Wright is currently gathering the details. Here's what we know so far:
Update:
The diver who died Wednesday is 70-year-old (dob 2/9/49) Peter Mendez from Davie (14180 S.W. 15th Court).
BSO homicide detectives continue to investigate the circumstances surrounding Mendez's death. Foul play is not suspected.
Original alert sent July 24:
Shortly after 9 o'clock Wednesday (July 24) morning, Hillsboro Beach P.D. requested assistance from the Broward Sheriff's Office Marine and Aviation units to locate a missing diver.
BSO's helicopter and law enforcement and fire rescue boats joined Hillsboro Beach P.D., the U.S. Coast Guard and several other law enforcement agencies in the search for the diver, who is reported to be in his 60s or 70s.
Shortly before 1 p.m., some recreational divers spotted the body at the bottom of the ocean and contacted emergency responders.
Rescue units responded, but the body had drifted away from the location. The search continued, and the body was spotted by a commercial diving boat at approximately 3:50 p.m.
The diver was transported to BSO's Marine substation at the Alsdorf Park boat ramp. The body will be taken to the medical examiner's office, where an autopsy will be performed to determine the cause and manner of death.
BSO homicide detectives will conduct a death investigation. Foul play is not suspected.