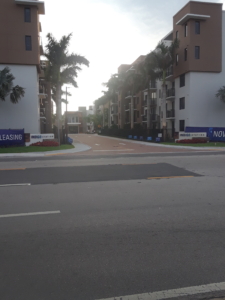 Deerfield-News.com-Deerfield Beach, Fl-Located just east of the Amtrak/Tri-Rail station, on the old Day's Inn parcel on Hillsboro Boulevard the new complex is now leasing. The project of RAM Realty has 226 rental apartments in one of Deerfield Beaches largest residential rental properties in years. The project will also include 7775 Square feet of retail shopping space. According to the builders, the project will be complete in the second quarter of 2019. Ram, based in Palm Beach Gardens, has commercial projects throughout the Southeast. Records show Ram paid 6.6 million dollars for the 8-acre tract and secured 29.3 Million dollars in financing from Iberia Bank.
From www.indigostation.com-
PERFECT LIVING. NOW OPEN.
Perfectly placed for people on the go, Indigo Station offers everything you want, right where you need it. With only 226 residences in four chic, ultra-modern five-story structures, you'll relish our spacious, luxury appointed multi-level Clubhouse and its lush resort-style pool, pavilion, and cabanas. You can come and go, socialize and find respite, shop, and get in shape, relax, and work with the thoughtful community amenities. Indigo Station is adjacent to the Hillsboro Tri-Rail Station, just ¼ mile west of I-95 – and less than five miles from some of South Florida's top-rated beaches. We offer easy access to Boca Raton and Ft. Lauderdale. Live perfectly placed to enjoy the best of both worlds – easy access to transit, and sophisticated living close to the bright indigo waters of the Atlantic Ocean.