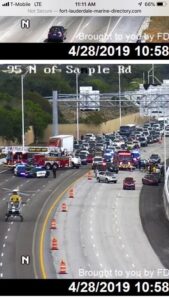 Deerfield-News.com-Deerfield Beach, Fl-From BSO Fire Rescue PIO Chief Michael Kane-Southbound I-95 is currently closed at SW 10th Street after a crash involving at least two vehicles has occurred.
Just after 11 am Broward Sheriff Fire Rescue units from Deerfield Beach responded to a vehicle accident involving two cars in the area of I95 and SW 10th Street in the southbound lanes.
Firefighters arrived and found at least two vehicles involved, one extensively damaged which appeared to had struck a barrier wall.
Of the two vehicles, one was occupied by a male driver with non life-threatening injuries. He was not transported. The second vehicle was occupied by three females, one adult and two small children. The adult female's injuries are considered non-life-threatening, however was transported to Broward Health for evaluation. Both small children received severe injuries which are considered life-threatening and were transported to Broward Health. One was flown by air, the other transported by ground. Firefighters were aggressively working to stabilize their conditions.
It is unknown at this time when I95 will reopen southbound. Updated 5.20pm  Southbound lanes are open
FHP will be the lead investigative agency.