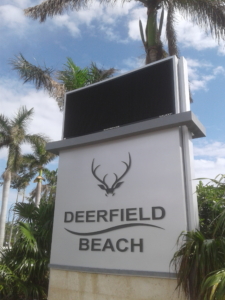 Deerfield-News.com-Deerfield Beach, Fl-From Broward County Supervisor of Elections. Broward County early voting begins Saturday for Broward residents.
Early Voting in Broward County Begins this Saturday
Broward County, FL (August 13, 2018)—The Broward County Supervisor of Elections Office is prepared to be of service to voters at the 21 Early Voting Sites scheduled for the 2018 Primary Election. Instead of voting at their polling place or voting by mail, voters may take advantage of Early Voting which will take place from:
SATURDAY, AUGUST 18 THROUGH SUNDAY, AUGUST 26, 2018
10:00 A.M. TO 6:00 P.M.
FOR A TOTAL OF NINE DAYS
Voting Sites- A list of the 21 sites and hours is available on our website at www.browardsoe.org.  A list of the sites is also attached to this email. Broward County has expanded the early voting sites, dates, and times in an effort to better serve voters. Broward County voters may go to any of the Early Voting Sites to cast a vote. Voters with disabilities will be able to vote using a touchscreen machine located at each Early Voting site.
Voters should take note that Florida law required voters to present picture ID with signature. Acceptable forms of ID are listed in our website at: www.browardsoe.org.
The tabulation and results of votes cast during Early Voting will be released after the polls close on Tuesday, August 28th, Election Day.  Results will be reported by precinct.
Dr. Brenda C. Snipes
Broward County Supervisor of Elections
EARLY VOTING SCHEDULE
PRIMARY ELECTION
AUGUST 18, 2018 – AUGUST 26, 2018
10:00 a.m.  – 6:00 p.m. Daily (9 Days)
*– SOE BRANCH OFFICE
 

2018 EARLY VOTING SITES

 

African-American Research Library

2650 Sistrunk Boulevard (NW 6th St.)

Ft. Lauderdale, FL  33311

Oveta McKeithen Recreational Complex

445 S.W. 2nd Street

Deerfield Beach, FL 33441

 
Coral Ridge Mall

(North or Northwest Entrance)

3200 N. Federal Highway

Ft. Lauderdale, FL  33306

Parkland Recreation

and Enrichment Center

10559 Trails End

Parkland, FL. 33076

 
Davie/Cooper City Branch Library

4600 SW 82nd Avenue

Davie, FL  33328

SOE at E. Pat Larkins Community Center *

520 Martin Luther King Boulevard

Pompano Beach, FL 33060

 
Emma Lou Olson Civic Center

1801 NE 6th St.

Pompano Beach, FL 33060

SOE at Lauderhill Mall *

1519 NW 40th Ave

Lauderhill, FL  33313

 
Ft. Lauderdale Branch Library/Art Serve

1350 E. Sunrise Boulevard Room 130

Ft. Lauderdale, FL 33304

South Regional Library/BC

7300 Pines Boulevard

Pembroke Pines, FL 33024

 
Hallandale Beach Cultural Community Center

410 SE 3rd Street

Hallandale Beach, FL  33009

Southwest Regional Library

16835 Sheridan Street

Pembroke Pines, FL  33331

 
Hollywood Branch Library

2600 Hollywood Boulevard

Hollywood, FL  33020

Sunrise Civic Center

10610 W. Oakland Park Blvd.

Sunrise, FL 33351

 
Miramar Branch Library

2050 Civic Center Place

Miramar, FL 33025

Tamarac Branch Library

8701 W. Commercial Boulevard

Tamarac, FL  33321

 
North Regional Library/BC

1100 Coconut Creek Boulevard

Coconut Creek, FL  33066

West Regional Library

8601 W. Broward Boulevard

Plantation, FL 33324

 
Northwest Regional Library

3151 University Drive

Coral Springs, FL  33065

Weston Branch Library

4205 Bonaventure Boulevard

Weston, FL  33332

 
Wilton Manors City Hall

2020 Wilton Drive

Wilton Manors, FL 33305