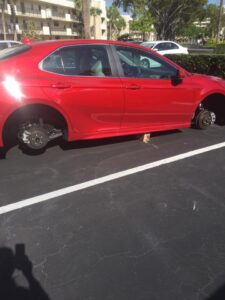 Deerfield-News.com-Deerfield Beach, Fl- I had just started to check this morning on some local tire shops to see who was open, when I came across this.
Not much advice one can give on not having your wheels and tires stolen. All we can do is look out for each other .if you see something says something
Deerfield-News.com has requested the most recent police blotter from BSO so we all can keep an eye on local crime during the Coronavirus crisis.
"I live in deer Creek I wake up this morning somebody stalling my 4 tires be careful everybody Keep eyes on your car's if you have a garage definitely put it on don't leave it outside , we have enough shit going on with coronavirus and now I have to deal with this problem ."