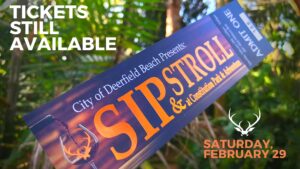 Deerfield-News.com-Deerfield Beach, Fl-
Sip & Stroll at Constitution Park and Arboretum
The City of Deerfield Beach Parks and Recreation Department, in conjunction with the Friends of the Deerfield Beach Arboretum, will be hosting the annual Sip & Stroll on Saturday, February 29, 2020, at Constitution Park and Arboretum, 2841 W. Hillsboro Blvd., from 6:00 PM to 10:00 PM.
Join us under the lit canopy of the arboretum, as guests will enjoy a sampling of wine, beer, and cuisine from local restaurants while taking a stroll through the Arboretum listening to live music. Tickets can be purchased at Constitution Park for $35/person starting Monday, February 10, 2020.
Please note: This is a 21 and over event with a limited amount of tickets. Additional event parking, with a free shuttle service, will be located at the east parking lot in the Target Plaza, 3313 W Hillsboro Blvd, from 5:45 PM through 10:30 PM.
For more information, please call 954-480-4494.