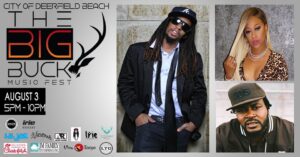 Deerfield-News.com-Deerfield Beach, -Tomorrow August 3, 2019, ig Buck Fest starting 5 pm at Oveta Mckeithen Recreation Center
445 SW 2nd Street, Deerfield Beach, Florida 33441.The City of Deerfield Beach Parks and Recreation Department is excited to announce the date of the second annual Big Buck Music! Join us August 3rd, 2019 for a fun filled day with a kid's zone, delicious food and beverage options and some of the hottest music to create a captivating vibe!
Parental Advisory: While we at the City of Deerfield Beach intend to promote a Family-Friendly environment, beginning at 7:00PM there will be mature content and explicit language included as a part of the show. It will be at the discretion of the adult supervisor of the children to determine if they wish to stay and take part.Who is ready for tomorrow? Trick Daddy, Trina and Lil Jon performing live in Deerfield Beach! 🎤
Event is Saturday August 3rd from 5 PM to 10 PM
🎟️ Tickets only available on Eventbrite ⬇️
http://bit.ly/BigBuckMusicFest
Public records request show the following artists have been paid $19,000 to Trina and Trick Daddy, while Lil Jon received 30 k for his work tomorrow night at Big Buck Fest.