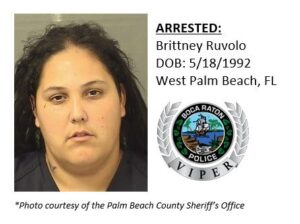 Deerfield-News.com-Deerfield Beach-From Boca Raton Police-
On Friday, May 10, 2019 at approximately 12:30 p.m., officers from Boca Raton Police responded to Bank United at 600 N Federal Highway in reference to a bank robbery that just occurred. An employee advised a female entered the bank, approached a teller window and slid the teller a note demanding money. No weapon was used or implied. After obtaining money, the female fled on foot.
As part of the crime scene investigation, latent fingerprints were lifted from the note. A review of a fingerprint impression identified 26-year-old Brittney Ruvolo as a possible suspect. Further investigation led Boca Raton Police detectives to charge Ruvolo with Robbery. Ruvolo was located and arrested on May 13, 2019. During an interview, she confessed to the bank robbery in Boca Raton. Ruvolo remains in the Palm Beach County Jail.