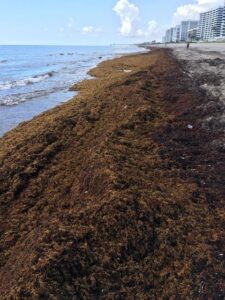 Photo- Allen Beecher-
Deerfield-News.com-Deerfield Beach, Fl- This should be the least of our worries with all of Florida's water problems from red tide to toxic algae blooms and of course our drinking water. Great job of keeping the beach looking good!
The good news is under the new recycling deal with Waste Management this seaweed is not a contaminant you can put in the blue bin .(not)
Hope the Chamber of Commerce has this snapshot.