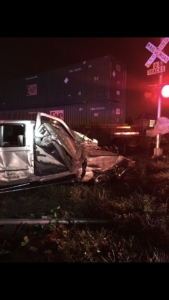 Deerfield-News.com-Deerfield-Beach Fl,-The last few weeks with the maiden voyage of Brightline which ended in a pedestrian death. South Florida as well as well as the rest of the nation has seen the rise in train accidents.All types of incidents involving trains vs vehicles, trains vs people, trains vs trains in some cases.death by trains are up
Above was on Dixie and Hillsboro just a few days back the driver was ejected.
Stop- Look- Listen- those are the proper instructions when approaching a railroad crossing on foot, bike or car.
Deerfield Beach has had its share just a few day back it was a pick-up vs the train.gelssby
BSO PIO Joy Oglesby has told us in Broward County  –
——– Original Message ——–
Subject: RE: Train Accident Statistics
From: Media Relations <Media_Relations@sheriff.org>
Date: Tue, January 23, 2018 2:06 pm
To: "'news@deerfield-news.com'" <news@deerfield-news.com>
Hi Howie,
We don't have a report that directly addresses your request. In 2016, we had four fatal train crashes. In 2017, we had eight fatal train crashes as of Dec. 19. These stats include people and vehicles.
Best,
Joy Oglesby
Public Information Officer
Broward Sheriff's Office
Work: (954) 831-8300
Fax: (954) 797-0927
Twitter: @bso_joy
 STOP! LOOK! LISTEN!
SIX THINGS TO KNOW ABOUT LIGHT RAIL AND COMMUTER TRAIN SAFETY
1. STAY ALERT.
Trains can come from either direction at any time and can be very quiet.  Around train tracks or in stations, obey all warning signs and signals and use caution when using headsets or cell phones.
2. WATCH THE OVERHANG.
Trains are wider than the tracks; never sit on the edge of a station platform.
3. STAND AWAY FROM THE PLATFORM EDGE.
Pay attention to painted or raised markings at the platform edge, and stay at least three feet from the train while it is coming in or out of the station.
4. WHEN ON BOARD, HOLD ON.
Hold on tight to poles or seats, and listen carefully to directions from the train operator or conductor.
5. WATCH YOUR STEP.
Be careful getting on and off the train – there may be a gap between the train and platform or steps.
6. DON'T TAKE SHORTCUTS WITH YOUR LIFE!
Follow directional signs and markings that let you know where it is safe to cross the tracks. Crossing the tracks anywhere else is dangerous and illegal.
Play it safe on train platforms.
More Safety Tips
For additional safety tips, including tips geared to specific audiences, see our Safety Tips landing page.