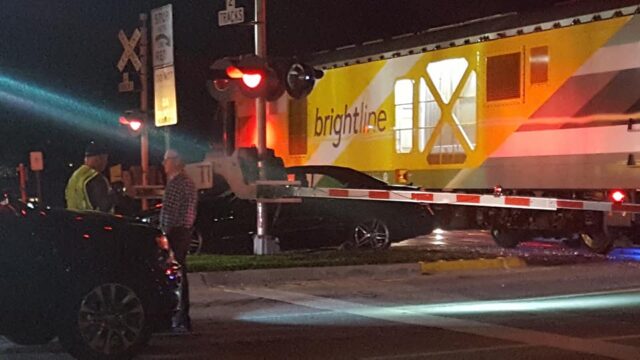 LIGHTHOUSE POINT MAN DIES AFTER COLLISION WITH TRAIN
BSO Case Number:

11-2205-000353
Jurisdiction:

Pompano Beach
Place of Occurrence:

North Dixie Highway and Northeast Sixth Street, Pompano Beach
Driver:

Jacob Bresnahan, 27, 3/16/1995, male, 5001 N.E. 24th Ave., Lighthouse Point (DECEASED)
Broward Sheriff's Office Traffic Homicide detectives are investigating a fatal vehicle versus train collision that occurred Monday morning in Pompano Beach and killed a Lighthouse Point man.
According to investigators, around 5:38 a.m. that morning, Jacob Bresnahan was traveling northbound in a 2015 Dodge Ram pickup truck on North Flagler Avenue approaching Northeast Sixth Street. At the same time, a Brightline train was traveling southbound approaching Northeast Sixth Street. A freight train was traveling northbound at the same time. Bresnahan proceeded to make a left turn onto Northeast Sixth Street traveling westbound in the eastbound lanes. At the time, the railroad stanchions were activated, the railroad crossing lights were activated and the safety arms were in the lowered position.
The investigation revealed that Bresnahan drove around the lowered safety arms and into the Brightline train's path of travel. The Brightline train struck the truck and projected it southward. Bresnahan was ejected from the vehicle. Pompano Beach Fire Rescue transported him to Broward Health North where he was pronounced deceased.
Investigators remind pedestrians, bicyclists and motorists to stop, look and listen when crossing railroad tracks. When a train is approaching, never go around the lowered safety arms. Do not underestimate the speed of the train. It may be traveling faster and be closer than you think. Even if the train engineer sees you, he or she will not be able to stop in time.
INVESTIGATORS:
Det. S. Strzalkowski, THI
Det. C. Greetham, THI
THIS REPORT BY:
Carey Codd/Sr. PIO
5/4/2022 1300
Sgt. R. Hager, THI
Pompano Beach
Pompano Beach Fire Rescue