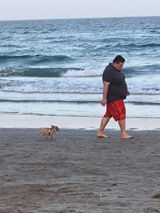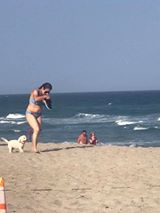 Deerfield-News.com-Deerfield Beach, Fl-No post this year seems to have garnered more attention from Deerfield Beach residents'  than yesterdays.
In case the City of Deerfield Beach was not aware there seem to be problems with citizens routinely violating the dogs on the beach ordinance. The only thing we can do is post the pictures in the "Dog Walkers Hall Of Shame" so keep on sending them we will do it weekly and see if we can put names to the violators.
DOES DEERFIELD BEACH HAVE A DOG POOP AND DOG PROBLEM ON THE BEACH?
Deerfield News.com-Deerfield Beach, Fl-Today on Facebook in our group Deerfield Beach many posters are concerned about dog owners disobeying city ordinances and not following signs. Some seem concerned the signs maybe not clear enough. Others seem to put the burden on the dog owners for just disobeying the city ordinance and walking dogs on the boardwalk and beach and not cleaning up after them. Other complaints include those pet owners who allow their dogs to run free off a leash and sometimes putting fear into those on the beach who may encounter the unleashed dog. Here are some of the posts that tell us your thoughts.
Yes, Deerfield-News.com will contact city officials and ask if they have an enforcement plan and if they are aware that this situation is a sore spot with residents.