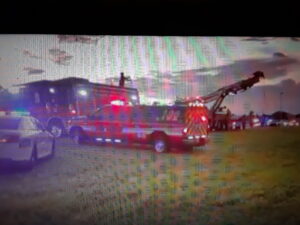 Deerfield-News.com-Deerfield Beach, Fl-Broward Sheriffs Fire Rescue PIO Chief Michael Kane has reported the following-Shortly before 6:30 Tuesday evening Broward Sheriff Fire Rescue received a call in reference to a vehicle submerged in a lake along the Sawgrass Expressway and the Northbound Florida Turnpike ramp in Deerfield Beach.
Units arrived several minutes later and located the single-vehicle submerged in a water retention pond approximately twenty yards from the roadway. Divers from Coral Springs-Parkland and Margate-Coconut Creek fire departments assisted BSO firefighters in an aggressive search and located three victims; two adults and possibly a teenaged or adolescent victim.
One of the adults was declared deceased on the scene and the other two victims were transported to Broward Health North in very critical condition. Both of the other passengers have since passed away bringing the death total to three.
At this time, the circumstances leading up to the crash are unknown and will be investigated by the Florida Highway Patrol. Drivers are reminded that while Hurricane Dorian has begun to creep north, there are still intermittent rain showers and gusty winds traversing through our area. It is important that drivers remain vigilant and cautious while operating on roadways as weather conditions can still be unpredictable.
Video Credit: Scott Holloway/BSFR