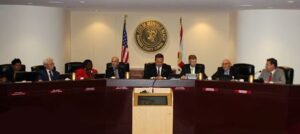 Deerfield-News.com-Deerfield Beach, Fl-Parness "I represent the citizens of Deerfield Beach how many who are they"????
Parness- "Put your money where your mouth is show up with ten thousand signatures then maybe he will give you more credence until then have your three minutes of fame".
Some of the citizens who Parness is questioning have raised the fact he received only 552 votes to win his seat against former Commissioner Rosenzweig who received 521 votes.Below are the 2017 election results which show Parness with only 552 votes.
DEERFIELD BEACH – MAYOR
Participating Precincts Reporting: 
24

 / 

24
Ben Preston (GEN)
16.26%
977
Ken Wayne (GEN)
26.21%
1,575
Bill Ganz (GEN)
38.72%
2,327
Gwyndolen "Gwyn" Clarke-Reed (GEN)
18.82%
1,131
DEERFIELD BEACH DIST 3 – CITY COMMISSIONER
Participating Precincts Reporting: 
7

 / 

7
Richard Rosenzweig (GEN)
39.56%
521
Bernie Parness (GEN)
41.91%
552
Caryl Berner (GEN)
18.53%
244
DEERFIELD BEACH DIST 4 – CITY COMMISSIONER
Participating Precincts Reporting: 
5

 / 

5
Rob Durham (GEN)
9.75%
142
Joe Hines (GEN)
26.42%
385
Todd Drosky (GEN)
63.83%
930
WHO IS THIS CLOWN?Commissioner Bernie Parness gets elected by a measly 552 votes – yet demands citizens have no right to speak for others without a minimum of 20,000 people! TALK ABOUT HYPOCRISY! WHO DOES THIS CLOWN THINK HE IS? It scares me to think that he is overseeing a $200 million dollar budget. @BernieParness

Posted by John Grassi on Wednesday, October 17, 2018